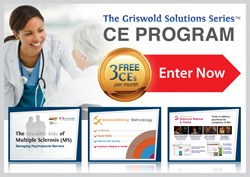 One of the most critical factors in delivering exceptional care...is to seek as much knowledge as possible...
Atlanta, GA (PRWEB) September 03, 2013
On August 22, 2013, co-hosts Brad Culp and Sam Grass of Business RadioX®'s Eugeria! Radio™ discussed the invisible side of MS and previewed Griswold Home Care's On-Line Training for Caregivers, Social Workers, Nurses and Administrators.
According to Grass, "One of the most critical factors in delivering exceptional care – whether to loved ones, or a patient – is to seek as much knowledge as possible with respect to the loved one's condition." For professional caregivers and healthcare workers, continuing education is often a requirement. Because there is a staggering number of opportunities to get educated, it's critical to spend valuable time wisely by picking educational opportunities that are relevant, attainable and practical.
"To that end, Griswold Home Care is proud to announce the availability of a series of on-line courses that are both practical and accredited for healthcare professionals for use in meeting their annual CE requirements," said Culp. These courses have been designed and developed by the Institute for Professional Care Education, in conjunction with Griswold Home Care.
As an example of the unique nature of these courses, consider the first course: The Invisible Side of Multiple Sclerosis. While there are many courses dealing with MS, this course deals with how to live with MS, and how healthcare extenders (nurses, social workers, family caregivers, friends, etc.) can better understand the psychosocial aspects of the disease.
To learn more about this free 3-hour CE course, tune in to Eugeria! Radio™.
About Eugeria! Radio™:
http://eugeria.businessradiox.com/.
Eugeria! Radio™ is a weekly radio show on Business RadioX® celebrating those who have given their careers to serving seniors and disabled individuals to make their lives comfortable, meaningful and fulfilled. Eugeria is sponsored by Griswold Home Care and is hosted by Brad Culp, Sam Grass and Kevin Finn.
About Business RadioX®:
BusinessRadioX® interviews dozens of innovative entrepreneurs and successful leaders each week. Its mission is to help local businesses Get The Word Out about the important work they're doing for their market, their community, and their profession. With a pro-business slant and a long-form interview format, guests don't have to worry about being ambushed or talking in "sound bites." Guests have enough time to tell their whole story and to share their insights and experience without interruptions. BusinessRadioX® hosts are business professionals interviewing their peers, drilling down on the critical issues, and delivering practical information to an engaged business audience. Business topics that are frequently covered include: Law, Finance, Healthcare, Technology, Trade Shows, B2B Marketing, Venture Capital, Training and Development and other issues impacting the business community. For more information, visit: http://www.businessradiox.com.