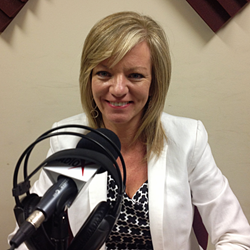 Senior Living Choices focuses on providing resources for active adult communities and homes...
Atlanta, GA (PRWEB) October 02, 2013
On September 24, 2013, co-hosts Brad Culp and Sam Grass of Business RadioX®'s Eugeria! Radio™ sat down with Allie Atkins to discuss her publication, Senior Living Choices.
A rare native Atlantan, Allie Atkins ventured as far as Macon to earn a degree from Mercer University. She started her career in the healthcare field publishing medical journals. According to Atkins, "A number of years ago, I got involved in the Real Estate Book that you've probably seen at Kroger or Walgreen's. This venture naturally led me into a resource book for seniors, Senior Living Choices."
About four years ago, Atkins had the opportunity to acquire the company. After publishing Senior Living Choices in Texas, Florida and the Carolinas, the book is finally making its debut in Atlanta this month. Atkins explains that this book is unique in a number of ways. "First, it is published monthly, rather than quarterly or annually, making the information in it more timely and relevant. Second, it is widely available around the city, not just in hospitals and rehab centers, but in places you frequently shop."
Senior Living Choices focuses on providing resources for active adult communities and homes, and senior housing and care. They also provide information on services such as in-home care, home health care, estate planning, financial planning, senior locator and senior moving services, realtors, medical facilities, pharmacies, local community services and more.
To learn more about Senior Living Choices, tune in to Eugeria! Radio™.
About Eugeria! Radio™:
http://eugeria.businessradiox.com/
Eugeria! Radio™ is a weekly radio show on Business RadioX® celebrating those who have given their careers to serving seniors and disabled individuals to make their lives comfortable, meaningful and fulfilled. Eugeria is sponsored by Griswold Home Care and is hosted by Brad Culp and Sam Grass.
About Business RadioX®:
BusinessRadioX® interviews dozens of innovative entrepreneurs and successful leaders each week. Its mission is to help local businesses Get The Word Out about the important work they're doing for their market, their community, and their profession. With a pro-business slant and a long-form interview format, guests don't have to worry about being ambushed or talking in "sound bites." Guests have enough time to tell their whole story and to share their insights and experience without interruptions. BusinessRadioX® hosts are business professionals interviewing their peers, drilling down on the critical issues, and delivering practical information to an engaged business audience. Business topics that are frequently covered include: Law, Finance, Healthcare, Technology, Trade Shows, B2B Marketing, Venture Capital, Training and Development and other issues impacting the business community. For more information, visit: http://www.businessradiox.com.