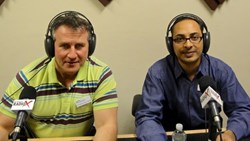 ...within the next ten years, the number of broken hips [in seniors] will exceed the number of surgeons to fix them.
Atlanta, GA (PRWEB) November 12, 2013
On October 31, 2013, co-hosts Brad Culp and Sam Grass of Business RadioX®'s Eugeria! Radio™ sat down with Prasant Desai and Chris Burds of Ability Rehab to discuss strategies for keeping seniors on their feet.
Ability Rehab LLC focuses on outpatient services providing physical, occupational and speech therapy. Uniquely, Ability Rehab brings the care to the client – in independent and assisted living communities. Furthermore, their program is unique in that it isn't reactive, it's preventative. Ability will start establishing a baseline from clinically observable conditions using established scoring tools. Then they will develop a plan of care to address the clinical deficiencies.
According to Prasant Desai, Principal with Ability Rehab, "Seventy percent of people over the age of 65 will fall, and within the next ten years, the number of broken hips will exceed the number of surgeons to fix them." Desai and Burds are committed to helping reduce the number of surgeries required by keeping seniors on their feet. After many years of experience in the healthcare industry, both these men decided to come together to create Ability Rehab.
Desai and Burds also announced their latest opening, an outpatient clinic in Dunwoody, Georgia that focuses on personalized care in a private setting without the distractions of multiple clinicians or patients.
To learn more about Ability Rehab, tune in to Eugeria! Radio™.
About Eugeria! Radio™:
http://eugeria.businessradiox.com/
Eugeria! Radio™ is a weekly radio show on Business RadioX® celebrating those who have given their careers to serving seniors and disabled individuals to make their lives comfortable, meaningful and fulfilled. Eugeria is sponsored by Griswold Home Care and is hosted by Brad Culp and Sam Grass.
About Business RadioX®:
BusinessRadioX® interviews dozens of innovative entrepreneurs and successful leaders each week. Its mission is to help local businesses Get The Word Out about the important work they're doing for their market, their community, and their profession. With a pro-business slant and a long-form interview format, guests don't have to worry about being ambushed or talking in "sound bites." Guests have enough time to tell their whole story and to share their insights and experience without interruptions. BusinessRadioX® hosts are business professionals interviewing their peers, drilling down on the critical issues, and delivering practical information to an engaged business audience. Business topics that are frequently covered include: Law, Finance, Healthcare, Technology, Trade Shows, B2B Marketing, Venture Capital, Training and Development and other issues impacting the business community. For more information, visit: http://www.businessradiox.com.