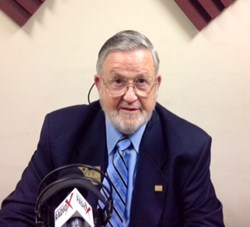 I do not sell a product of any kind, rather, I am an educator.
Atlanta, GA (PRWEB) December 02, 2013
On November 26, 2013, co-hosts Brad Culp and Sam Grass of Business RadioX®'s Eugeria! Radio™ sat down with Tim Madison of Money Concepts to discuss strategies for life in retirement.
Tim Madison is a Certified Financial Planner with Money Concepts, a financial planning services firm that provides professional portfolio management and a variety of advisory services to assist its clients in the management of their investment portfolios. Money Concepts has more than 2500 certified financial planners worldwide, and provides consistency of service across all 50 states and dozens of countries.
A twice-retired information technology professional from GE and Coke, Madison became a full-time financial planner in 2000, and has spent the last five years with Money Concepts. Explained Madison, "I do not sell a product of any kind, rather, I am an educator."
Madison said his goal is to get his clients to consider three things: how they will live in retirement, how they will manage the cost of long term care, and what legacy, if any, they will leave behind.
Regardless of the level at which any of these three are funded, Madison wants to make sure that his clients have choices, and that each client understands the choices, and deliberately plans for them.
To learn more about Tim Madison and Money Concepts, tune in to Eugeria! Radio™.
About Eugeria! Radio™:
http://eugeria.businessradiox.com/
Eugeria! Radio™ is a weekly radio show on Business RadioX® celebrating those who have given their careers to serving seniors and disabled individuals to make their lives comfortable, meaningful and fulfilled. Eugeria is sponsored by Griswold Home Care and is hosted by Brad Culp and Sam Grass.
About Business RadioX®:
BusinessRadioX® interviews dozens of innovative entrepreneurs and successful leaders each week. Its mission is to help local businesses Get The Word Out about the important work they're doing for their market, their community, and their profession. With a pro-business slant and a long-form interview format, guests don't have to worry about being ambushed or talking in "sound bites." Guests have enough time to tell their whole story and to share their insights and experience without interruptions. BusinessRadioX® hosts are business professionals interviewing their peers, drilling down on the critical issues, and delivering practical information to an engaged business audience. Business topics that are frequently covered include: Law, Finance, Healthcare, Technology, Trade Shows, B2B Marketing, Venture Capital, Training and Development and other issues impacting the business community. For more information, visit: http://www.businessradiox.com.