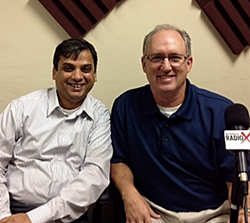 Peach Life Pharmacy focuses on customer service, and a hands-on approach to our market.
Atlanta, GA (PRWEB) January 02, 2014
On December 20, 2013, co-hosts Brad Culp and Sam Grass of Business RadioX®'s Eugeria! Radio™ sat down with Sudhir Upadhya and Gary Payton from Peach Life Pharmacy to discuss medication management.
Sudhir Upadhya was born and raised in India, earning an undergraduate degree in Computer Science at a school in Mumbai. After coming to the US, Upadhya earned his MBA at the Goizueta School of Business at Emory. Upon graduation, Upadhya spent the next 15 years as a software consultant. Wanting to start a business that had more of a community impact, he, along with his partners, founded Peach Life Pharmacy.
According to Upadhya, "Peach Life Pharmacy focuses on customer service, and a hands-on approach to our market." Specifically, they assist their clients in three areas: compliance through custom packaging of their customers' medications at prescribed dosages; convenience with free delivery within 10 miles of the pharmacy; consulting by reviewing all prescribed medications and suggesting ways to improve efficacy.
Joining Upadhya in the studio was Gary Payton, a Pharmacist with Peach Life Pharmacy. Payton earned his Pharmacy degree at The University of Georgia. After graduation, he worked as a pharmacist in a large chain pharmacy. An entrepreneur in his own right, Payton started and sold a business after working for a while in sales, marketing and product development. Wanting to keep his pharmacy skills intact, and wanting to be a part of a local impact business, Payton found Peach Life and joined their efforts to open the business.
To learn more about Peach Life Pharmacy, tune in to Eugeria! Radio™.
About Eugeria! Radio™:
http://eugeria.businessradiox.com/
Eugeria! Radio™ is a weekly radio show on Business RadioX® celebrating those who have given their careers to serving seniors and disabled individuals to make their lives comfortable, meaningful and fulfilled. Eugeria is sponsored by Griswold Home Care and is hosted by Brad Culp and Sam Grass.
About Business RadioX®:
BusinessRadioX® interviews dozens of innovative entrepreneurs and successful leaders each week. Its mission is to help local businesses Get The Word Out about the important work they're doing for their market, their community, and their profession. With a pro-business slant and a long-form interview format, guests don't have to worry about being ambushed or talking in "sound bites." Guests have enough time to tell their whole story and to share their insights and experience without interruptions. BusinessRadioX® hosts are business professionals interviewing their peers, drilling down on the critical issues, and delivering practical information to an engaged business audience. Business topics that are frequently covered include: Law, Finance, Healthcare, Technology, Trade Shows, B2B Marketing, Venture Capital, Training and Development and other issues impacting the business community. For more information, visit: http://www.businessradiox.com.