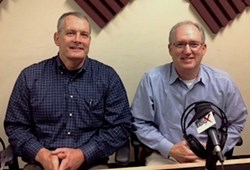 Paloxin has been so successful that in less than a year, it has become one of the top selling products of its kind on Amazon.
Atlanta, GA (PRWEB) February 05, 2014
On January 9, 2014, co-hosts Brad Culp and Sam Grass of Business RadioX®'s Eugeria! Radio™ sat down with Keith Walls and Gary Payton from KG Pharmaceuticals to learn about Paloxin, a new product for arthritis and joint pain.
Keith Walls, President of KG Pharmaceuticals, and Gary Payton, Vice President of Operations, first ventured into business together to bring a new Hepatitis C medication to market. After selling the business, they became aware of a new topical pain relief drug.
According to Walls, "This pain relief gel's active ingredient is capsaicin, derived from cayenne peppers. While proven to be effective in relief of muscle and joint pain, one of its issues was that as the concentration of capsaicin was raised, the skin would feel warm, or even burn." Paloxin, manufactured by Trinity Laboratories, has been able to encapsulate the active ingredient to eliminate the burning, while delivering more than double the active ingredient.
KG Pharmaceuticals is the exclusive distributor of Paloxin. Explained Payton, "Paloxin has been so successful that in less than a year, it has become one of the top selling products of its kind on Amazon."
To learn more about Paloxin and KG Pharmaceuticals, tune in to Eugeria! Radio™.
About Eugeria! Radio™:
http://eugeria.businessradiox.com/
Eugeria! Radio™ is a weekly radio show on Business RadioX® celebrating those who have given their careers to serving seniors and disabled individuals to make their lives comfortable, meaningful and fulfilled. Eugeria is sponsored by Griswold Home Care and is hosted by Brad Culp and Sam Grass.
About Business RadioX®:
BusinessRadioX® interviews dozens of innovative entrepreneurs and successful leaders each week. Its mission is to help local businesses Get The Word Out about the important work they're doing for their market, their community, and their profession. With a pro-business slant and a long-form interview format, guests don't have to worry about being ambushed or talking in "sound bites." Guests have enough time to tell their whole story and to share their insights and experience without interruptions. BusinessRadioX® hosts are business professionals interviewing their peers, drilling down on the critical issues, and delivering practical information to an engaged business audience. Business topics that are frequently covered include: Law, Finance, Healthcare, Technology, Trade Shows, B2B Marketing, Venture Capital, Training and Development and other issues impacting the business community. For more information, visit: http://www.businessradiox.com.