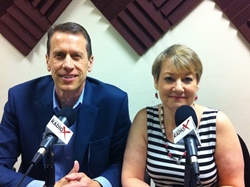 The mission of the APDA is twofold...to ease the burden of Parkinson's, and to find a cure.
Atlanta, GA (PRWEB) April 29, 2014
Eric Burkhard, Georgia Chapter President of the American Parkinson's Disease Association (APDA) and Lynn Ross, coordinator of the referral center, were interviewed on the April 10, 2014 Eugeria show on BusinessRadioX®. The team discussed how funds are being raised in the Atlanta area to increase awareness about Parkinson's Disease.
The American Parkinson's Disease Association, founded in 1961, is the largest organization dedicated to curing Parkinson's disease. The APDA supports eight Advanced Research Centers and a national network of Referral Centers and support groups. A variety of events were held across the country to celebrate National Parkinson's Awareness Month, such as walks and other fundraising events.
The Georgia Chapter was awarded sponsorship of the Liberty Mutual Golf Invitational this year, which the non-profit hopes will significantly raise awareness. The Skyline Gala, another fundraiser, is also on the horizon.
"The mission of the APDA is twofold," said Burkard. "That is, to ease the burden of Parkinson's, and to find a cure." Burkhard entered the organization first as a volunteer after his younger sister was diagnosed with Parkinson's disease nine years ago.
To learn more about the APDA and their upcoming fundraisers, tune in to Eugeria! Radio™.
About Eugeria! Radio™:
http://eugeria.businessradiox.com/
Eugeria! Radio™ is a weekly radio show on Business RadioX® celebrating those who have given their careers to serving seniors and disabled individuals to make their lives comfortable, meaningful and fulfilled. Eugeria is sponsored by Griswold Home Care and is hosted by Brad Culp and Sam Grass.
About Business RadioX®:
BusinessRadioX® interviews dozens of innovative entrepreneurs and successful leaders each week. Its mission is to help local businesses Get The Word Out about the important work they're doing for their market, their community, and their profession. With a pro-business slant and a long-form interview format, guests don't have to worry about being ambushed or talking in "sound bites." Guests have enough time to tell their whole story and to share their insights and experience without interruptions. BusinessRadioX® hosts are business professionals interviewing their peers, drilling down on the critical issues, and delivering practical information to an engaged business audience. Business topics that are frequently covered include: Law, Finance, Healthcare, Technology, Trade Shows, B2B Marketing, Venture Capital, Training and Development and other issues impacting the business community. For more information, visit: http://www.businessradiox.com.