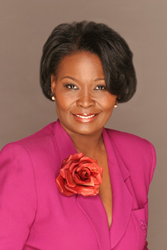 Let's Talk Small Business will engage the entire small business development community in active dialogue.
Atlanta, GA (PRWEB) April 30, 2014
On Tuesday, May 13, 2014, BusinessRadioX® welcomes to the studio the latest addition to its radio family, Let's Talk Small Business, hosted by Stacey Key.
Let's Talk Small Business is a weekly show that will engage the entire small business development community in active dialogue about the obstacles and opportunities affecting this complex business segment. Listeners will hear from C-suite executives, sole proprietors, and government and industry leaders – as they share the meaningful insight and instruction necessary to build prosperous business ventures in today's global economy.
Stacey Key currently serves as the president and CEO of the Georgia Minority Supplier Development Council (GMSDC), the state of Georgia's leading advocate for small business development and inclusive procurement practices. The GMSDC – an affiliate of the National Minority Supplier Development Council (NMSDC) – seeks to certify small businesses, help them to develop capacity and competitiveness, and then connect them with opportunities to do business with governmental agencies and corporations throughout the nation.
Key is a small business development advocate and supplier diversity professional based in Atlanta – the nation's top-rated city for entrepreneurs. A sought-after thought leader, Key is a veteran of more than 20 years of corporate roles in sales, marketing, technology and operations.
"Stacey brings an incredible amount of experience in small business development, and her show will be an excellent addition to our studio line-up," said Lee Kantor, co-owner of BusinessRadioX®.
Join us for this inaugural episode at 11:30am Eastern on Tuesday, May 13th, on Let's Talk Small Business.
About Business RadioX®:
BusinessRadioX® interviews dozens of innovative entrepreneurs and successful leaders each week. Its mission is to help local businesses Get The Word Out about the important work they're doing for their market, their community, and their profession. With a pro-business slant and a long-form interview format, guests don't have to worry about being ambushed or talking in "sound bites." Guests have enough time to tell their whole story and to share their insights and experience without interruptions. BusinessRadioX® hosts are business professionals interviewing their peers, drilling down on the critical issues, and delivering practical information to an engaged business audience. Business topics that are frequently covered include: Law, Finance, Healthcare, Technology, Trade Shows, B2B Marketing, Venture Capital, Training and Development and other issues impacting the business community. For more information, visit: http://www.businessradiox.com.