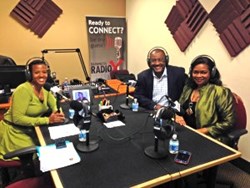 Atlanta, GA (PRWEB) November 04, 2013
On October 25, 2013, host Michelle Matthews of Growth Matters on Business RadioX® welcomed to the studio C. David Moody of C.D. Moody Construction and Sanquinetta Dover of DoverStaffing to talk about their businesses and careers.
C. David Moody established C.D. Moody Construction Company, Inc. (CDM) in 1988. CDM is an award-winning general contracting and construction management firm specializing in aviation, collegiate, commercial, K-12, municipal, nonprofit, and retail facilities, as well as historic renovations. They are ranked as one of Atlanta's Top 25 Commercial Contractors and Top 100 Private Companies by Atlanta Business Chronicle. According to Moody, "We believe that construction is not just a brick-and-mortar business; it is first a people business. Our vision is to develop leaders that build quality projects, and the most important thing we have learned is that the construction business is about serving people and meeting their construction needs in a safe, cost-efficient, and timely manner."
Also in the studio was Sanquinetta Dover, Founder of DoverStaffing, Inc. With more than 30 years of business experience servicing major metropolitan markets with her distinctive leadership style, Dover has extensive experience in staffing, training, and project management. Dover described her company's mission, saying. "We believe that in order for a business relationship to be successful, the client, employment candidate and Dover staff member must all benefit. Our ultimate goal is to provide exceptional customer service along with groundbreaking solutions for our clients." Dover is also known as a humanitarian. She was awarded with a Resolution by the Georgia State Senate that commends her business acumen and was presented the "Success Against the Odds" award from the Atlanta Business League. The Georgia Department of Labor presented Dover, as Chair of the Atlanta Employer Committee, Project of the Year Award also featured in the Atlanta Business Chronicle's special edition of "CEO University," highlighting leading CEOs from Georgia colleges and universities.
To learn more about these guests and programs, listen to the complete interview on Growth Matters.
About Growth Matters:
http://growthmatters.businessradiox.com/
Michelle Matthews, President of Matthews Consulting Group and an authority on strategic change, hosts Growth Matters. Join our dialogue to learn about ideas and strategies to spark your creativity and increase your ability to create growth for your company in today's competitive environment. Learn valuable insights from executives and entrepreneurs who have faced the challenges and risks associated with business growth and succeeded. Learn how they have opened doors that have led to professional and personal success. Growth Matters airs each Friday morning at 10am EST.
About Business RadioX®:
BusinessRadioX® interviews dozens of innovative entrepreneurs and successful leaders each week. Its mission is to help local businesses Get The Word Out about the important work they're doing for their market, their community, and their profession. With a pro-business slant and a long-form interview format, guests don't have to worry about being ambushed or talking in "sound bites." Guests have enough time to tell their whole story and to share their insights and experience without interruptions. BusinessRadioX® hosts are business professionals interviewing their peers, drilling down on the critical issues, and delivering practical information to an engaged business audience. Business topics that are frequently covered include: Law, Finance, Healthcare, Technology, Trade Shows, B2B Marketing, Venture Capital, Training and Development and other issues impacting the business community. For more information, visit: http://www.businessradiox.com.