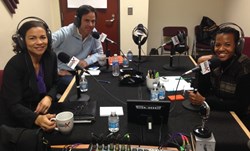 Atlanta, GA (PRWEB) December 08, 2013
On November 22, 2013, host Michelle Matthews of Growth Matters on Business RadioX® welcomed to the studio Belinda Stubblefield with Year Up Atlanta and Chris Morocco with KidsLink to talk about their businesses and careers.
Belinda Stubblefield is Executive Director of Year Up Atlanta, a one-year, intensive training program that provides low-income young adults in the Atlanta area, ages 18-24, with a combination of hands-on skill development, college credits, and corporate internships. Year Up Atlanta seeks to close the opportunity divide by providing urban young adults with the skills, experience, and support that will empower them to reach their potential through professional careers and higher education.
With more than 20 years of leadership experience in large corporations as well as in entrepreneurial firms, Stubblefield is the founder of Stubblefield Ventures, LLC, a partner of Paradies-Atlanta, LCC, which operates 20 retail stores at Hartsfield-Jackson Atlanta International Airport. The Atlanta Business League has recognized Stubblefield as one of "Atlanta's Top 100 Black Women of Influence."
Also in the studio was Chris Morocco, CEO of KidsLink, a dashboard app designed specifically for moms to aggregate everything they need on a daily basis, from document capture-and-storage to milestone tracking to communicating with health providers.
Morocco brings nearly two decades of early stage and start-up experience and leadership to his current role. Prior to KidsLink, he was CEO and board member of Petrus Brands, and the owner and operator of two national franchise concepts: Planet Smoothie and Shane's Rib Shack. Morocco led the management buyout of the $80 MM franchise-based brand portfolio in the fast-casual dining and healthy lifestyle categories from Raving Brands. Three years later he orchestrated the sale of two of the brands to a strategic buyer.
To learn more about these guests and programs, listen to the complete interview on Growth Matters.
About Growth Matters:
http://growthmatters.businessradiox.com/
Michelle Matthews, President of Matthews Consulting Group and an authority on strategic change, hosts Growth Matters. Join our dialogue to learn about ideas and strategies to spark your creativity and increase your ability to create growth for your company in today's competitive environment. Learn valuable insights from executives and entrepreneurs who have faced the challenges and risks associated with business growth and succeeded. Learn how they have opened doors that have led to professional and personal success. Growth Matters airs each Friday morning at 10am EST.
About Business RadioX®:
BusinessRadioX® interviews dozens of innovative entrepreneurs and successful leaders each week. Its mission is to help local businesses Get The Word Out about the important work they're doing for their market, their community, and their profession. With a pro-business slant and a long-form interview format, guests don't have to worry about being ambushed or talking in "sound bites." Guests have enough time to tell their whole story and to share their insights and experience without interruptions. BusinessRadioX® hosts are business professionals interviewing their peers, drilling down on the critical issues, and delivering practical information to an engaged business audience. Business topics that are frequently covered include: Law, Finance, Healthcare, Technology, Trade Shows, B2B Marketing, Venture Capital, Training and Development and other issues impacting the business community. For more information, visit: http://www.businessradiox.com.