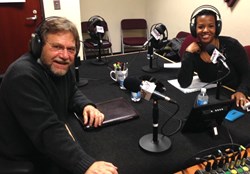 ACFB leads seven distinct projects that reinforce its mission to fight hunger.
Atlanta, GA (PRWEB) December 30, 2013
On December 16, 2013, host Michelle Matthews of Growth Matters on Business RadioX® welcomed to the studio Bill Bolling with the Atlanta Community Food Bank.
Bill Bolling has served as Executive Director of the Atlanta Community Food Bank (ACFB) since founding the organization in 1979. In this capacity, he oversees the distribution of more than 45 million pounds of food and grocery products each year through a network of 600 local and regional partner nonprofit organizations that feed the hungry across 29 Georgia counties.
In addition to serving as a state-wide food bank network, the ACFB operates other programs that serve those in Georgia. According to Bolling, "ACFB leads seven distinct projects that reinforce its mission to fight hunger by engaging, educating and empowering our community." Those projects are: Atlanta Prosperity Campaign, Atlanta's Table, Community Gardens, Hunger 101, Hunger Walk/Run, Kids In Need and Product Rescue Center.
As a charter member of Feeding America, the national network of more than 200 food banks, Bolling was instrumental in the start-up of food banks across the country. He is a frequent speaker on topics related to hunger, poverty, regionalism, affordable housing and public policy reform. His skills in bridging various public sectors have made him a leader in strengthening the community to serve those most in need.
To learn more about Bill Bolling and the Atlanta Community Food Bank, listen to the complete interview on Growth Matters.
About Growth Matters: http://growthmatters.businessradiox.com/
Michelle Matthews, President of Matthews Consulting Group and an authority on strategic change, hosts Growth Matters. Join our dialogue to learn about ideas and strategies to spark your creativity and increase your ability to create growth for your company in today's competitive environment. Learn valuable insights from executives and entrepreneurs who have faced the challenges and risks associated with business growth and succeeded. Learn how they have opened doors that have led to professional and personal success. Growth Matters airs each Friday morning at 10am EST.
About Business RadioX®:
BusinessRadioX® interviews dozens of innovative entrepreneurs and successful leaders each week. Its mission is to help local businesses Get The Word Out about the important work they're doing for their market, their community, and their profession. With a pro-business slant and a long-form interview format, guests don't have to worry about being ambushed or talking in "sound bites." Guests have enough time to tell their whole story and to share their insights and experience without interruptions. BusinessRadioX® hosts are business professionals interviewing their peers, drilling down on the critical issues, and delivering practical information to an engaged business audience. Business topics that are frequently covered include: Law, Finance, Healthcare, Technology, Trade Shows, B2B Marketing, Venture Capital, Training and Development and other issues impacting the business community. For more information, visit: http://www.businessradiox.com.