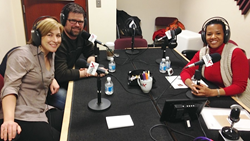 We're relocating the Scoop Shop and Factory Store to our new and awesome location in Marietta.
Atlanta, GA (PRWEB) March 31, 2014
On March 14, 2014, host Michelle Matthews of Growth Matters on Business RadioX® welcomed to the studio Keith and Nicki Schroeder, owners of High Road Craft Ice Cream and Sorbet.
High Road Craft Ice Cream and Sorbet launched in 2010 with a mission to sell ice cream to chefs. High Road products can be found at finer restaurants and specialty retailers throughout the United States.
Keith Schroeder is the founder and CEO of High Road Craft Ice Cream, and is actively building a family of food brands, including Sunday Gravy and Winnow Food Markets. Keith is a celebrated entrepreneur, veteran chef, and food educator.
Alongside Keith, Nicki Schroeder joined the High Road team at the request of the Board of Directors in April 2011. Currently, she handles all brand development and design at High Road Craft Ice Cream and Sorbet, and recently orchestrated a seven-SKU retail launch within a 90-day time crunch.
At the demand of food enthusiasts, High Road opened a factory store where customers could purchase pint-sized containers. This soon led to retailers carrying their products as well. According to the Schroeders, "We're relocating the Scoop Shop and Factory Store to our new and awesome location in Marietta. Stay tuned to our Facebook page for updates on our opening date."
To learn more about the Schroeders and High Road Craft Ice Cream and Sorbet, listen to the complete interview on Growth Matters.
About Growth Matters:
http://growthmatters.businessradiox.com/
Michelle Matthews, President of Matthews Consulting Group and an authority on strategic change, hosts Growth Matters. Join our dialogue to learn about ideas and strategies to spark your creativity and increase your ability to create growth for your company in today's competitive environment. Learn valuable insights from executives and entrepreneurs who have faced the challenges and risks associated with business growth and succeeded. Learn how they have opened doors that have led to professional and personal success. Growth Matters airs each Friday morning at 10am EST.
About Business RadioX®:
BusinessRadioX® interviews dozens of innovative entrepreneurs and successful leaders each week. Its mission is to help local businesses Get The Word Out about the important work they're doing for their market, their community, and their profession. With a pro-business slant and a long-form interview format, guests don't have to worry about being ambushed or talking in "sound bites." Guests have enough time to tell their whole story and to share their insights and experience without interruptions. BusinessRadioX® hosts are business professionals interviewing their peers, drilling down on the critical issues, and delivering practical information to an engaged business audience. Business topics that are frequently covered include: Law, Finance, Healthcare, Technology, Trade Shows, B2B Marketing, Venture Capital, Training and Development and other issues impacting the business community. For more information, visit: http://www.businessradiox.com.