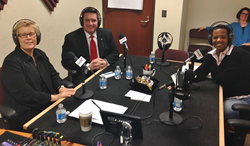 We believe high quality early childhood education stems from play...
Atlanta, GA (PRWEB) May 07, 2014
Pam Tatum, President and CEO of Quality Care for Children (QCC) and Bobby Cagle, newly appointed Commissioner of Bright From The Start: (DECAL), were featured on the April 18, 2014 episode of Growth Matters, hosted by Michelle Matthews.
QCC is a nonprofit organization that strives to ensure infants and young children are nurtured and educated. QCC also works with the child Care Food Program to provide meals to over 10,000 children each year. Bright from the Start: DECAL, is a state agency responsible for meeting the needs of early childhood education with services in licensing all child care facilities through Georgia's Pre-K Program. DECAL also oversees the federal Child and Adult Care Food Program and Summer Food Service Program.
"Our facilities are among the highest quality in the state," said Cagle. "We care for around 400,000 children each day. We believe high quality early childhood education stems from play—the child should not know there's a lesson plan going on."
Cagle has served as the Director of Legislative and External Affairs for the Georgia Division of Family and Children Services. He began his career as a social worker.
Tatum became the third CEO in the QCC's 30-year history, and under her leadership, the QCC has expanded to become one of the premier childcare resource and referral agencies in the country.
To learn more about these initiatives for early childhood education, listen to the complete interview on Growth Matters.
About Growth Matters:
http://growthmatters.businessradiox.com/
Michelle Matthews, President of Matthews Consulting Group and an authority on strategic change, hosts Growth Matters. Join our dialogue to learn about ideas and strategies to spark your creativity and increase your ability to create growth for your company in today's competitive environment. Learn valuable insights from executives and entrepreneurs who have faced the challenges and risks associated with business growth and succeeded. Learn how they have opened doors that have led to professional and personal success. Growth Matters airs each Friday morning at 10am EST.
About Business RadioX®:
BusinessRadioX® interviews dozens of innovative entrepreneurs and successful leaders each week. Its mission is to help local businesses Get The Word Out about the important work they're doing for their market, their community, and their profession. With a pro-business slant and a long-form interview format, guests don't have to worry about being ambushed or talking in "sound bites." Guests have enough time to tell their whole story and to share their insights and experience without interruptions. BusinessRadioX® hosts are business professionals interviewing their peers, drilling down on the critical issues, and delivering practical information to an engaged business audience. Business topics that are frequently covered include: Law, Finance, Healthcare, Technology, Trade Shows, B2B Marketing, Venture Capital, Training and Development and other issues impacting the business community. For more information, visit: http://www.businessradiox.com.