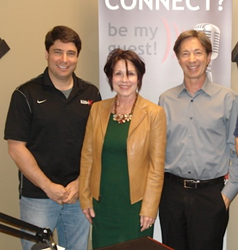 Our goal is to combine technology ingredients that provide the best technology to companies with a front end and a back end.
Atlanta, GA (PRWEB) May 05, 2014
Greta Cairns, Director of Account Management for PlatformOne and Vibe HCM, was interviewed alongside Ken Kingery, Principal at Mosaic Corporation, by host Mike Sammond on the April 11, 2014 episode of Gwinnett Business Radio. Each of these companies is providing human resource and operations solutions with a focus on technology.
PlatformOne is dedicated to providing customers with low cost human resource solutions. PlatformOne advances employee care while reducing costs through advanced technology. Vibe HCM is a state-of-the-art technology platform that engages social communications, maximizes efficiency and provides critical information on each employee. Mosaic Corporation specializes in the transition to paperless operations with the goal of improving business results.
"Our goal is to combine technology ingredients that provide the best technology to companies with a front end and a back end," said Cairns. "We are able to fully engage employees in human capital management."
At Mosaic Corporation, Kingery is responsible for an array of operations including software implementation, project management, and marketing campaigns. Mosaic consultants help businesses - including human resources departments - adopt paperless business practices through document and content management. Mosaic is dedicated exclusively to paperless workflow technologies.
To learn more about these featured guests, listen to the entire interview on Gwinnett Business Radio.
About Gwinnett Business Radio:
http://gwinnettbusinessradio.businessradiox.com/
Each week, from the Gwinnett Business RadioX® studio, Mike Sammond interviews Gwinnett County's top businessmen and businesswomen to learn what makes them the best at what they do. Gwinnett Business Radio airs on Tuesdays and Thursdays at 10:00am EST.
About Business RadioX®:
BusinessRadioX® interviews dozens of innovative entrepreneurs and successful leaders each week. Its mission is to help local businesses Get The Word Out about the important work they're doing for their market, their community, and their profession. With a pro-business slant and a long-form interview format, guests don't have to worry about being ambushed or talking in "sound bites." Guests have enough time to tell their whole story and to share their insights and experience without interruptions. BusinessRadioX® hosts are business professionals interviewing their peers, drilling down on the critical issues, and delivering practical information to an engaged business audience. Business topics that are frequently covered include: Law, Finance, Healthcare, Technology, Trade Shows, B2B Marketing, Venture Capital, Training and Development and other issues impacting the business community. For more information, visit: http://www.businessradiox.com.