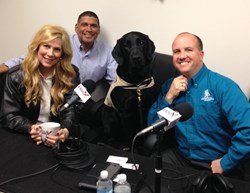 We are gaining momentum at Legacy Leaders Radio with a line up of recognized, thought provoking Legacy Leaders scheduled for the next few weeks.
Atlanta, GA (PRWEB) February 13, 2014
Jack Perry, Jr. has a passion to spotlight people making a difference in community service, and on his Business RadioX® show, Legacy Leaders Radio, Jack has brought to the airwaves Legacy Leaders that truly make a difference.
Last month, Legacy Leaders Radio featured a special show all about hope. Chaplin Kenneth Koon with Armed Forces Mission visited the Midtown studio to speak with Jack about the current crisis in our military of suicide. His passion is to provide hope to soldiers and military families who are at risk, or dealing with the crisis of suicide. The show also featured Cathy Berggren, Executive Director with Real Life Center, who also works in the business of hope for families in the community that are hurting from economic and/or other unfortunate circumstances.
January also featured a special Legacy Leaders Radio show when Jack Perry, Jr. went solo. Jack took the hour to discuss his personal life, his military career, and his passion to spotlight Legacy Leaders. In this very personal show, Jack talks about his own history with anger, and how to overcome the emotion and step out of your comfort zone with courage.
Another must-listen show was with guest-host Karon Cook and show guest Denis Oliverio with Wounded Warriors Project. Denis is a wounded warrior himself, who suffered injuries during his military service in Iraq. He discussed the journey through recovery and the transition into civilian life. His very emotional story compels us to think about the many people who served our country with great personal sacrifice.
"We are gaining momentum at Legacy Leaders Radio with a line up of recognized, thought provoking Legacy Leaders scheduled for the next few weeks," said host Jack Perry, Jr. "These leaders are busy people, in notable corporate positions, that make time for community service. We are actively spreading the word about our show's continuing theme of hope and service to the community."
To learn more about these featured guests, tune in to Legacy Leaders Radio.
About Legacy Leaders Radio:
http://legacyleaders.businessradiox.com/
Legacy Leaders Radio, with host Jack Perry, Jr., highlights today's thought leaders and decision makers who understand even small actions and behaviors affect many people in the course of history in the making. These thought provoking discussions reveal what motivates people to create greater good in their homes and society, while considering what legacy we all want to leave as our life's work. Legacy Leaders Radio airs every Friday at 1:00pm EST.
About Business RadioX®:
BusinessRadioX® interviews dozens of innovative entrepreneurs and successful leaders each week. Its mission is to help local businesses Get The Word Out about the important work they're doing for their market, their community, and their profession. With a pro-business slant and a long-form interview format, guests don't have to worry about being ambushed or talking in "sound bites." Guests have enough time to tell their whole story and to share their insights and experience without interruptions. BusinessRadioX® hosts are business professionals interviewing their peers, drilling down on the critical issues, and delivering practical information to an engaged business audience. Business topics that are frequently covered include: Law, Finance, Healthcare, Technology, Trade Shows, B2B Marketing, Venture Capital, Training and Development and other issues impacting the business community. For more information, visit: http://www.businessradiox.com.