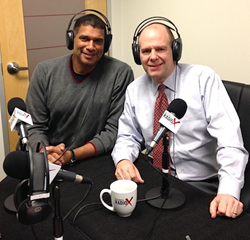 Legacy Leaders that lead with service to others has been a reocurring lesson in our recent shows.
Atlanta, GA (PRWEB) March 25, 2014
Legacy Leaders Radio, and its Host Jack Perry, Jr., brought the best of business leadership to the BusinessRadioX® Midtown Atlanta Studio.
Mark Miller, recognized best-selling author of four leadership books, spoke with Jack Perry about his career at Chick-Fil-A. Mark believes that "great leaders serve," and his rise from hourly team member to Vice President of Organizational Effectiveness is a remarkable example of greatness in service. His latest book, "The Heart of Leadership," focuses on the issues that impede our leadership success, and his advice to people for getting their lives and careers on track.
Entrepreneur and Naturopathic Doctor Rachel Smartt is a physical, spiritual and nutritional health leader with her business, Smartt Nutrition, and in her personal life as well. Rachel shared with Jack Perry her family health crisis' when her husband was diagnosed with terminal adrenal cancer in 1997, and when her daughter, Sarah, was diagnosed with a plum-sized brain tumor. Sarah joined her mother in-studio for Legacy Leaders Radio to discuss her full recovery; unfortunately, Rachel's husband Dave lost his battle with cancer. Rachel started Smartt Nutrition to profess the benefits of a healthy diet, while leading a family as a single mother with four daughters.
Dahlys Hamilton wants to take leadership to a whole new level with her campaign to run for Georgia State House 97th District. When she visited with Jack Perry on Legacy Leaders Radio, she spoke about her vision to make her district the healthiest place in Georgia, empowering local farmers to deliver farm-to-dinner-table foods, grown in the best organic conditions locally, with affordable, easy access distribution to everyone in the community.
"Legacy Leaders that lead with service to others has been a reoccurring lesson in our recent shows," said Host Jack Perry, Jr. "These high-profile guests truly articulate a personal and professional priority of leaving a lasting legacy for future leaders."
To learn more about these featured guests, tune in to Legacy Leaders Radio.
About Legacy Leaders Radio:
http://legacyleaders.businessradiox.com/
Legacy Leaders Radio, with host Jack Perry, Jr., highlights today's thought leaders and decision makers who understand even small actions and behaviors affect many people in the course of history in the making. These thought provoking discussions reveal what motivates people to create greater good in their homes and society, while considering what legacy we all want to leave as our life's work. Legacy Leaders Radio airs every Friday at 1:00pm EST.
About Business RadioX®:
BusinessRadioX® interviews dozens of innovative entrepreneurs and successful leaders each week. Its mission is to help local businesses Get The Word Out about the important work they're doing for their market, their community, and their profession. With a pro-business slant and a long-form interview format, guests don't have to worry about being ambushed or talking in "sound bites." Guests have enough time to tell their whole story and to share their insights and experience without interruptions. BusinessRadioX® hosts are business professionals interviewing their peers, drilling down on the critical issues, and delivering practical information to an engaged business audience. Business topics that are frequently covered include: Law, Finance, Healthcare, Technology, Trade Shows, B2B Marketing, Venture Capital, Training and Development and other issues impacting the business community. For more information, visit: http://www.businessradiox.com.