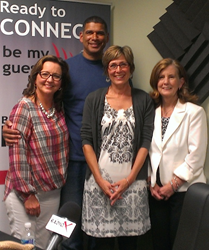 Our recent guests are people that help people, help themselves become legacy leaders.
Atlanta, GA (PRWEB) June 26, 2014
Jack Perry, Jr., Host of Legacy Leaders Radio, brought to the airwaves of BusinessRadioX® guests with a passion to help others reach new levels of personal and professional potential. "Our recent guests are people that help people, help themselves become legacy leaders," said Jack Perry, Jr.
Legacy Leaders Radio guest Luke Iorio's career can be described as helping thousands of people help people. Luke is President and CEO of the Institute for Professional Excellence in Coaching (iPEC), the most comprehensive and experiential coach-training program in the world. He shared with show listeners how becoming a professional coach can not only bring clarity to your own career, but also influence professionals around the world through self-discovery and awareness.
Jean Christensen spoke from the heart with Host Jack Perry, Jr. during her appearance on the show when she spoke about her definition of success, and how to define your own. Jean specializes in helping small, minority, and women-owned firms increase revenues through government contracting, certification, and innovative business strategies. Anyone struggling with work/home balance will be well served by Jean's thoughtful advice.
Tracy Cleary with Connection Point Coaching visited Legacy Leaders Radio to discuss how she gives people the tools they need to acknowledge that they own the challenges they face in their professional or personal lives, and that inside of you is the courage and the momentum needed to find solutions.
Helping families in crisis is serious business for three very special guests joining Jack on Legacy Leaders Radio. Theresa Wash from Community Welcome House, Cheryl DeLuca-Johnson from Street Grace, and Cathy Berggren from Real Life Center, came on the show to provide resources for people dealing with domestic violence and/or domestic minor sex trafficking. This show got personal for Jack, as a former police officer and as a child growing up with volatile anger at home.
Jack announced, with Theresa, Cheryl and Cathy in Studio, that he has authored his first book, "The Other Side of Anger; A Son's Search for Peace". Jack takes his readers on a personal journey through his life and how to persevere with wisdom. "The Other Side of Anger; A son's Search for Peace" will be released by the publisher, July 2014.
To learn more about these featured guests, tune in to Legacy Leaders Radio.
About Legacy Leaders Radio:
http://legacyleaders.businessradiox.com/
Legacy Leaders Radio, with host Jack Perry, Jr., highlights today's thought leaders and decision makers who understand even small actions and behaviors affect many people in the course of history in the making. These thought provoking discussions reveal what motivates people to create greater good in their homes and society, while considering what legacy we all want to leave as our life's work. Legacy Leaders Radio airs every Friday at 1:00pm EST.
About Business RadioX®:
BusinessRadioX® interviews dozens of innovative entrepreneurs and successful leaders each week. Its mission is to help local businesses Get The Word Out about the important work they're doing for their market, their community, and their profession. With a pro-business slant and a long-form interview format, guests don't have to worry about being ambushed or talking in "sound bites." Guests have enough time to tell their whole story and to share their insights and experience without interruptions. BusinessRadioX® hosts are business professionals interviewing their peers, drilling down on the critical issues, and delivering practical information to an engaged business audience. Business topics that are frequently covered include: Law, Finance, Healthcare, Technology, Trade Shows, B2B Marketing, Venture Capital, Training and Development and other issues impacting the business community. For more information, visit: http://www.businessradiox.com.