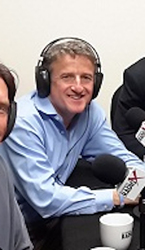 What really counts in this business is content creation and storytelling.
Atlanta, GA (PRWEB) June 02, 2014
On May 20, 2014, Midtown Business Radio special co-hosts Michael Lauer and CW Hall welcomed to the studio Thom Gonyeau, Principal with Mountain View Group, to share the company's story.
Mountain View is a 33 year old company that originally offered traditional media production services. After evolving into a creative communications agency, they expanded their services to media production, including corporate film, strategic communications and design.
Although the company has changed over time, Mountain View still produces quality television commercials which comprise a large portion of their work. "Seventy percent of our work touches video in some way, with most being in a digital space, more and more we are expanding into the design and social interactive marketing practice," explained Gonyeau.
Mountain View takes the time to understand their clients and the stories they want to tell. "What really counts in this business is content creation and storytelling. We have honed that practice and are good at it," said Gonyeau. By using dynamic and engaging ways to connect with their client's audiences, Mountain View has separated themselves from the industry's competition.
To learn more about Mountain View Group, tune in to this episode of Midtown Business Radio.
About Midtown Business Radio:
http://midtown.businessradiox.com
Each week, from the Business RadioX® studio in Midtown, we interview Atlanta's top business professionals to learn what makes them the best at what they do. Airs LIVE on Tuesdays at 11:30am EST.
About Business RadioX®:
BusinessRadioX® interviews dozens of innovative entrepreneurs and successful leaders each week. Its mission is to help local businesses Get The Word Out about the important work they're doing for their market, their community, and their profession. With a pro-business slant and a long-form interview format, guests don't have to worry about being ambushed or talking in "sound bites." Guests have enough time to tell their whole story and to share their insights and experience without interruptions. BusinessRadioX® hosts are business professionals interviewing their peers, drilling down on the critical issues, and delivering practical information to an engaged business audience. Business topics that are frequently covered include: Law, Finance, Healthcare, Technology, Trade Shows, B2B Marketing, Venture Capital, Training and Development and other issues impacting the business community. For more information, visit: http://www.businessradiox.com.