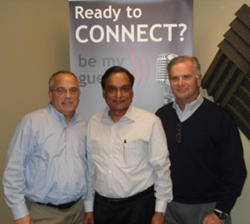 Most of what we do is real estate based loans which we are fully secured...
Atlanta, GA (PRWEB) May 27, 2014
On the Money, the Business RadioX radio show focused on Atlanta's small business financial services, featured President of Imperial Investments Group, Nitin Shah, and Senior Vice President of Embassy National Bank, Bobby Goff. Host Joe Moss welcomed the guests to discuss small business loans.
Imperial Investments Group is a premier real estate acquisition, development, and management company with headquarters in Atlanta, Georgia, specializing in hotel property investment. Nitin Shah advised on the radio show that, with the economic upswing, now is the best time to buy a hotel.
"As a banker, I personally think this is the safest investment you can make because the owner will give you blood before they will give you the hotel back," explained Shah. He also speaks on behalf of Embassy National Bank as CEO and Chairman, as he further explains the process of buying a hotel. "A good buyer should look at the condition of the hotel, do the PIP before the closing, look at the cost, find out how to finance the total costs, and maximize leverage and at Embassy we are great at doing that because we know the business."
Bobby Goff's specialty at Embassy National Bank is providing USDA loans and SBA loans to small business owners. Goff has been in the business for over 30 years. He is a preferred lender for Embassy which means he has a delegated authority to actually approve loans on behalf of SBA. According to Goff, a company needs to be fewer than 500 employees to qualify as a small business when trying to attain an SBA loan.
"Most of what we do is real estate based loans which we are fully secured, so depending on the strength of the deal we will be as aggressive as we need to be," said Goff. Embassy has found a niche in serving the small business community and pride themselves in knowing the ins and outs of the industry.
To learn more about small business loans and these featured guests, listen to this interview in its entirety at On the Money.
About On the Money:
http://onthemoney.businessradiox.com
On the Money focuses on topics and issues allowing small businesses to better navigate the financial services minefield, with analysis and opinions from today's industry experts on banking and loans. On the Money introduces listeners to some of the top small business leaders in the Atlanta market. Hosted by Joe Moss and sponsored by Embassy National Bank, On the Money airs live every Wednesday at 3:00 PM EST from the Gwinnett Business RadioX® studio.
About Embassy National Bank:
Embassy National Bank was founded in 2007 to meet a need of its community: a truly business-friendly local partner who could make lending and banking accessible, straightforward and grounded. A local group of businessmen with backgrounds in finance, banking and hospitality created that partner for the greater Atlanta area, especially the communities of Lawrenceville, Duluth, Suwanee and Norcross. To support that vision, Embassy National Bank has assembled a team of managers and bankers with both local and nationwide experience to support the bank's mission: to be the community partner small businesses want, and neighbors need. For more information, visit http://www.embassynationalbank.com
About Business RadioX®:
Business RadioX® interviews dozens of innovative entrepreneurs and successful leaders each week. Its mission is to help local businesses Get The Word Out about the important work they're doing for their market, their community, and their profession. With a pro-business slant and a long-form interview format, guests don't have to worry about being ambushed or talking in "sound bites." Guests have enough time to tell their whole story and to share their insights and experience without interruptions. BusinessRadioX® hosts are business professionals interviewing their peers, drilling down on the critical issues, and delivering practical information to an engaged business audience. Business topics that are frequently covered include: Law, Finance, Healthcare, Technology, Trade Shows, B2B Marketing, Venture Capital, Training and Development and other issues impacting the business community. For more information, visit: http://www.businessradiox.com.