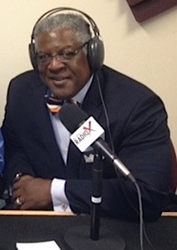 Anybody can win your business in good times, but keeping your business over a long period of time takes a lot of work.
Atlanta, GA (PRWEB) March 17, 2014
On March 12, 2014, co-hosts Lee Kantor and Stone Payton of BusinessRadioX®'s Atlanta Business Radio sat down with Edward Meyers from PNC Bank to learn more about their growing presence in the metro Atlanta area.
Edward Meyers is regional president of Georgia for PNC Bank, one of the largest diversified financial services companies in the United States, providing retail and business banking, residential mortgage banking, investment banking, corporate and commercial financing, specialized services for government entities, wealth management and asset management. Meyers joined PNC in 1999 as vice president and senior business development officer for the Business Credit Group. Meyers started his career as an auditor and portfolio manager with Continental Bank in Chicago.
Meyers explained that PNC Bank acquired RBC approximately two and half years ago, beginning its foray into Georgia and the metro Atlanta area. PNC has grown its commercial banking, retail banking, corporate and real estate services, and also offers full-service financing.
Once in Atlanta, Meyers and PNC got involved in the community right away. One special way they are engaging is through their Grow Up Great Program - a ten year initiative to serve the community. Grow Up Great targets children ages 0-5 and provides books, reading and partners with many local groups and agencies. According to Meyers, "We give PNC employees 40 free hours each year to volunteer in the community through the Grow Up Great Program."
In addition to engaging in the community, PNC prides itself on outstanding and personal customer service. "Anybody can win your business in good times, but keeping your business over a long period of time takes a lot of work," said Meyers. "Our company climate and culture is to know and understand our customers and their needs, whether individual or corporate accounts."
To learn more about Edward Meyers and PNC Bank, tune in to this episode of Atlanta Business Radio.
About Lee Kantor:
Lee Kantor has been involved in Internet radio, podcasting and blogging since he started the Dr. Fitness and the Fat Guy show in 2005. Since then, Lee has interviewed well over 1000 entrepreneurs, business owners, authors and celebrities on a variety of shows and at live events. In addition to his hosting duties, Lee is a Managing Partner at BusinessRadioX® and is committed to helping entrepreneurs and business owners in Atlanta learn how to use radio to dramatically grow their businesses.
About Stone Payton:
For over 24 years, Stone Payton has been helping organizations and the people who lead them drive their business strategies more effectively. He is a Managing Partner at BusinessRadioX® and the author of SPEED®: Never Fry Bacon In The Nude: And Other Lessons From The Quick & The Dead, and has dedicated his entire career to helping others produce better results in less time.
About Atlanta Business Radio:
http://www.atlantabusinessradio.businessradiox.com
Each week, from the BusinessRadioX® studio in Sandy Springs, Lee Kantor and Stone Payton interview Atlanta, Georgia's top businessmen and businesswomen to learn what makes them the best at what they do.
About Business RadioX®:
BusinessRadioX® interviews dozens of innovative entrepreneurs and successful leaders each week. Its mission is to help local businesses Get The Word Out about the important work they're doing for their market, their community, and their profession. With a pro-business slant and a long-form interview format, guests don't have to worry about being ambushed or talking in "sound bites." Guests have enough time to tell their whole story and to share their insights and experience without interruptions. BusinessRadioX® hosts are business professionals interviewing their peers, drilling down on the critical issues, and delivering practical information to an engaged business audience. Business topics that are frequently covered include: Law, Finance, Healthcare, Technology, Trade Shows, B2B Marketing, Venture Capital, Training and Development and other issues impacting the business community. For more information, visit: http://www.businessradiox.com.