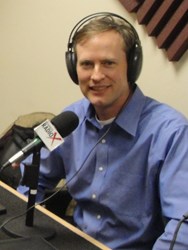 Today, we help companies...prepare for the worst case scenario.
Atlanta, GA (PRWEB) January 13, 2014
On January 9, 2014, co-hosts Lee Kantor and Stone Payton of BusinessRadioX®'s Atlanta Business Radio sat down in the studio with Armistead Whitney of Preparis.
Armistead Whitney is Chief Executive Officer and Founder of Preparis. As CEO, Whitney leads the strategic direction with a passion for implementing innovative sales, marketing and partnership models in industries ripe for change. He has over 20 years of experience leading software, web services and digital media companies, including raising more than $50 million in venture capital and a successful IPO.
Whitney was inspired to start Preparis following his experiences in New York City during 9/11 where he saw firsthand the inability of companies to protect their people, operations, revenue and brand during a crisis event. According to Whitney, "Today, we help companies such as investment managers, banks, credit unions, law firms, and commercial real estate property managers prepare for the worst case scenario."
Whitney went on to explain that Preparis offers a unique, web-based platform which includes an emergency notification system (to send emergency messages via text, email and voice to an entire company in a matter of seconds), as well as online crisis team training, document storage for essential emergency plans and critical files, plus a professional consulting team to help create and implement actionable business continuity and life safety programs for an organization.
To learn more about Preparis, tune in to this episode of Atlanta Business Radio.
About Lee Kantor:
Lee Kantor has been involved in Internet radio, podcasting and blogging since he started the Dr. Fitness and the Fat Guy show in 2005. Since then, Lee has interviewed well over 1000 entrepreneurs, business owners, authors and celebrities on a variety of shows and at live events. In addition to his hosting duties, Lee is a Managing Partner at BusinessRadioX® and is committed to helping entrepreneurs and business owners in Atlanta learn how to use radio to dramatically grow their businesses.
About Stone Payton:
For over 24 years, Stone Payton has been helping organizations and the people who lead them drive their business strategies more effectively. He is a Managing Partner at BusinessRadioX® and the author of SPEED®: Never Fry Bacon In The Nude: And Other Lessons From The Quick & The Dead, and has dedicated his entire career to helping others produce better results in less time.
About Atlanta Business Radio:
http://www.atlantabusinessradio.businessradiox.com
Each week, from the BusinessRadioX® studio in Sandy Springs, Lee Kantor and Stone Payton interview Atlanta, Georgia's top businessmen and businesswomen to learn what makes them the best at what they do.
About Business RadioX®:
BusinessRadioX® interviews dozens of innovative entrepreneurs and successful leaders each week. Its mission is to help local businesses Get The Word Out about the important work they're doing for their market, their community, and their profession. With a pro-business slant and a long-form interview format, guests don't have to worry about being ambushed or talking in "sound bites." Guests have enough time to tell their whole story and to share their insights and experience without interruptions. BusinessRadioX® hosts are business professionals interviewing their peers, drilling down on the critical issues, and delivering practical information to an engaged business audience. Business topics that are frequently covered include: Law, Finance, Healthcare, Technology, Trade Shows, B2B Marketing, Venture Capital, Training and Development and other issues impacting the business community. For more information, visit: http://www.businessradiox.com.