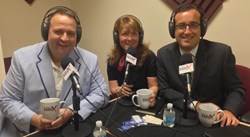 PRSA's mission is to enhance the profession, provide continuing education and offer networking...
Atlanta, GA (PRWEB) October 18, 2013
On October 17, 2013, co-hosts Lee Kantor and Stone Payton of BusinessRadioX®'s Atlanta Business Radio welcomed to the studio Neil Hirsch with Novelis, Elyse Hammett with EOS and Stephen Brown with Cohn & Wolfe Atlanta, all members of the Georgia Chapter of PRSA, the Public Relations Society of America.
PRSA's Georgia Chapter, the second-largest local chapter in the national society, consists of 850 professionals throughout Georgia. Its mission is to enhance the profession, provide continuing education and offer networking opportunities for its members. The Chapter has monthly meetings as well as eight Special Interest Groups (Corporate & Employee Communications, Healthcare, Independent Counselors, Leader Board, Nonprofit, Technology, Travel & Tourism, and Young Professionals) that meet at various times.
On November 7, 2013, at the Cobb Energy Performing Arts Centre, the PRSA Georgia Chapter will host its Annual Awards Celebration, recognizing the programs and projects that represent the best in public relations in Georgia with the presentation of this year's Phoenix Awards.
First in the discussion was Neil Hirsch, APR, this year's President-Elect of the Georgia Chapter of PRSA. Hirsch is Manager of Global External Communications for Atlanta-based Novelis, the leading producer of rolled aluminum and the largest aluminum recycler in the world. In his role, he is responsible for media relations, corporate visibility, crisis communications, social media and government affairs for the corporation.
Also in the studio was Elyse Hammett, APR, Vice President of Public Relations with EOS Marketing & Communications. Hammett serves as chair of the membership committee for the Georgia PRSA, and is also active in the association's APR training program, where she has coached more than 80 candidates since 2007 through the universal accreditation process to earn the APR designation.
Rounding out the discussion was Stephen Brown, APR, Managing Director of Cohn & Wolfe-Atlanta. His 16-year agency career includes work within advertising, public relations, marketing and interactive disciplines, and he consults on topics ranging from media relations strategy to creative brainstorming to leveraging social media. Brown is currently Treasurer of the Georgia Chapter of PRSA.
To learn more about PRSA and the upcoming Awards, tune in to this episode at Atlanta Business Radio.
---
About Lee Kantor:
Lee Kantor has been involved in Internet radio, podcasting and blogging since he started the Dr. Fitness and the Fat Guy show in 2005. Since then, Lee has interviewed well over 1000 entrepreneurs, business owners, authors and celebrities on a variety of shows and at live events. In addition to his hosting duties, Lee is a Managing Partner at BusinessRadioX® and is committed to helping entrepreneurs and business owners in Atlanta learn how to use radio to dramatically grow their businesses.
About Stone Payton:
For over 24 years, Stone Payton has been helping organizations and the people who lead them drive their business strategies more effectively. He is a Managing Partner at BusinessRadioX® and the author of SPEED®: Never Fry Bacon In The Nude: And Other Lessons From The Quick & The Dead, and has dedicated his entire career to helping others produce better results in less time.
About Atlanta Business Radio:
http://www.atlantabusinessradio.businessradiox.com
Each week, from the BusinessRadioX® studio in Sandy Springs, Lee Kantor and Stone Payton interview Atlanta, Georgia's top businessmen and businesswomen to learn what makes them the best at what they do.
About Business RadioX®:
BusinessRadioX® interviews dozens of innovative entrepreneurs and successful leaders each week. Its mission is to help local businesses Get The Word Out about the important work they're doing for their market, their community, and their profession. With a pro-business slant and a long-form interview format, guests don't have to worry about being ambushed or talking in "sound bites." Guests have enough time to tell their whole story and to share their insights and experience without interruptions. BusinessRadioX® hosts are business professionals interviewing their peers, drilling down on the critical issues, and delivering practical information to an engaged business audience. Business topics that are frequently covered include: Law, Finance, Healthcare, Technology, Trade Shows, B2B Marketing, Venture Capital, Training and Development and other issues impacting the business community. For more information, visit: http://www.businessradiox.com.