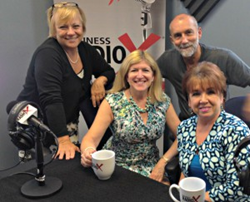 In this particular area, we're seeing a lot of growth due to the expansion of software companies...
Raleigh, NC (PRWEB) June 30, 2014
The Metro Raleigh Business RadioX studio in Wake Forest, NC recently hosted Barbara Beard with Carlyle Conlan and Marlene Spritzer with Cresa Carolinas. Co-hosts Ann Revell-Pechar and Cal Hackeman identified interesting overlaps in the way these recruiting and commercial real estate firms serve the technology and life sciences community in North Carolina.
Carlyle Conlan is an executive search and recruiting firm specializing in mid-to-upper management and was voted top search firm by Triangle Business Journal in 2012. Barbara Beard, IT Practice Leader, began her career more than 20 years ago and recruits for both contract and direct hire resources, primarily in the technology and life sciences fields.
"In this particular area, we're seeing a lot of growth due to the expansion of software companies and the number of data centers coming from the west coast because of our talent, and because the expense is less here," said Beard. "We're seeing a lot of entrepreneurship here - they really promote that and supporting a lot of entrepreneurs – it's a very promotional place; it's very attractive. We have a lot of really good talent here but we need more developers, and network or systems engineers."
Cresa is an international corporate real estate advisory firm that exclusively represents tenants and specializes in the delivery of fully integrated real estate services. With more than 58 offices, Cresa is the largest tenant representation firm in North America. Marlene Spritzer is a Senior Vice President of the Cresa Carolinas' Triangle office. With over 17 years of commercial real estate experience, Spritzer is focused in the areas of corporate, life science, tech and medical office occupiers.
According to Spritzer, Data Centers are a big part of their work in the Carolinas as well. "We have worked with a few data center companies coming out of California that now have offices here." Cresa simplifies the move for those firms because the company is "focused on representing the end-user, and don't have ties to landlords or owners. There's no conflict of interest."
To learn more about Cresa and Carlyle Conlan, listen to the entire interview on Metro Raleigh Business Radio.
About Metro Raleigh Business Radio:
Metro Raleigh Business Radio gives voice to the most interesting thought leaders in metropolitan Raleigh, North Carolina business community. Broadcasting live from Metro Raleigh Business RadioX® in Wake Forest, NC, each episode features a variety of business and technology executives, telling the success stories of their companies. Co-hosts Ann Revell-Pechar and Cal Hackeman bring you Metro Raleigh Business Radio live each Monday at 1:00pm EST; podcasts are also available at http://raleigh.businessradiox.com.
About Business RadioX®:
Business RadioX® interviews dozens of innovative entrepreneurs and successful leaders each week. Its mission is to help local businesses Get The Word Out about the important work they're doing for their market, their community, and their profession. With a pro-business slant and a long-form interview format, guests don't have to worry about being ambushed or talking in "sound bites." Guests have enough time to tell their whole story and to share their insights and experience without interruptions. BusinessRadioX® hosts are business professionals interviewing their peers, drilling down on the critical issues, and delivering practical information to an engaged business audience. Business topics that are frequently covered include: Law, Finance, Healthcare, Technology, Trade Shows, B2B Marketing, Venture Capital, Training and Development and other issues impacting the business community. For more information, visit: http://www.businessradiox.com.