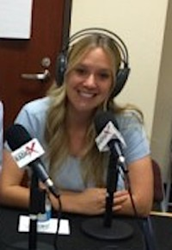 For $3,000, we can help a family double their income for 30 years.
Atlanta, GA (PRWEB) June 27, 2014
On June 6, 2014, Emerging Enterprise, with host Van Baird, welcomed into the Business RadioX studio Sarah Buchanan, Co-Founder of the Kula Project, to share her story of creating sustainable communities in Africa.
The Kula Project is a non-profit organization that invests in small-scale farmers in Rwanda to help them create sustainable communities. The majority of farmers in developing nations like Rwanda are unable to generate enough income to feed and sustain their families, due to the lack of basic needs. After a trip to Kenya in 2009, Buchanan saw the "undeniable effects of agriculture on underdeveloped countries" and had the desire to help change their circumstances.
"There are a billion small farmers in the world, let's work with the people who are already trying to do something," explained Buchanan.
The Kula Project makes personal investments in people and farming for families and the community. "For $3,000, we can help a family double their income for 30 years," said Buchanan. The Kula Project spends the donated money by investing in the farmers, planting the crops and selling the harvests.
To learn more about Buchanan and the Kula Project, listen to the entire broadcast on Emerging Enterprise.
About Emerging Enterprise:
http://emergingenterprise.businessradiox.com
Co-hosts Van Baird and Taylor Cyr feature The Relational Equity series, focused on High-Growth Companies and their Trusted Advisors. Atlanta is quickly becoming THE incubator city for Social Good companies and non-profits. Young entrepreneurs are making a name for themselves and their causes throughout the Atlanta Metro area. The Relational Equity series on Emerging Enterprise shines a spotlight on those who are making a difference for others around the world and from right here in the ATL. Emerging Enterprise airs LIVE weekly, Fridays at 1:00 pm Eastern.
About Business RadioX®:
BusinessRadioX® interviews dozens of innovative entrepreneurs and successful leaders each week. Its mission is to help local businesses Get The Word Out about the important work they're doing for their market, their community, and their profession. With a pro-business slant and a long-form interview format, guests don't have to worry about being ambushed or talking in "sound bites." Guests have enough time to tell their whole story and to share their insights and experience without interruptions. BusinessRadioX® hosts are business professionals interviewing their peers, drilling down on the critical issues, and delivering practical information to an engaged business audience. Business topics that are frequently covered include: Law, Finance, Healthcare, Technology, Trade Shows, B2B Marketing, Venture Capital, Training and Development and other issues impacting the business community. For more information, visit: http://www.businessradiox.com.