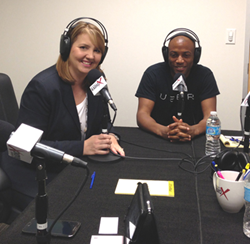 One of the great things about Atlanta - it is a huge growth opportunity in varied industries...
Atlanta, GA (PRWEB) July 17, 2013
On July 16, 2013, co-hosts Lee Kantor and Stone Payton of Results Matter Radio on Business RadioX® welcomed to the studio Rebecca Harrell with Randstad and Keith Radford with Uber to talk about their careers, businesses and how they serve their communities.
Rebecca Harrell is Regional Vice President of Randstad Staffing, Office and Administration division. She is responsible for the sales strategy, operations and market growth for Office and Administration in the Atlanta market. Harrell brings over 20 years of sales, recruitment and operational leadership and has had a proven track record of delivering strong financial results while developing and implementing strategies and programs that enhance, evolve and strengthen a high performance culture.
Randstad offers a comprehensive range of HR services to its clients. They provide temporary, temporary to hire, direct hire and outsourced placement services for local and global customers and fulfill all aspects of commercial and professional staffing within Accounting & Finance, Office & Administration, Engineering, Healthcare, IT, Legal, Life Sciences, and Manufacturing & Logistics. Other offerings include payrolling, managed services, recruitment process outsourcing and HR consulting solutions.
In discussing the recent recession in the economy, Harrell has observed a rise in job opportunities. According to Harrell, "One of the great things about Atlanta - it is a huge growth opportunity in varied industries, and we have truly seen an uptick in the job opportunities that you see out there."
Keith Radford is an Atlanta native who attended Harvard and majored in Economics in 2002. He spent several years in the financial services industry in New York and Amsterdam before attending business school at Kellogg at Northwestern. Keith joined Uber in January 2012, charged with launching new markets for the company. He has launched Los Angeles, Philadelphia and Atlanta, and is now acting as General Manager for the Atlanta market.
Uber operates on a Request from Anywhere at Any Time system. Clients can download Uber's app onto an iPhone or Android or place a request on m.uber.com, set their pickup location on the map, and Uber will dispatch the nearest driver to pick the client up. There will also be a text sent with the estimated arrival time. When the car arrives, the client gets another text. After the ride, Uber will automatically charge the credit card placed on file. There's no need to hand the driver any payment, and the tip is included.
Known for their high-end car service, Radford announced that Uber has now rolled out a new service - uberX. According to Radford, "uberX is our low-cost option that offers the same great Uber quality and professional drivers you're used to at taxi prices." uberX is mostly a mix of hybrid and mid-range cars in a variety of styles with seating for up to four people.
To hear more about the guests and businesses featured, listen to the complete interview on Results Matter Radio.
About Burr & Forman's Results Matter Radio:
http://resultsmatterradio.businessradiox.com/
Brought to you by Burr & Forman LLP, Results Matter Radio brings you pertinent business information and real life solutions to help drive desired results – whatever your business may be. We interview Business Leaders and Trusted Advisors about the most important issues in Commercial Real Estate, International Commerce, Healthcare, Family Business, Corporate Litigation, Finance, Philanthropy, Estate Planning, and more.
About Business RadioX®:
Business RadioX® provides a turnkey solution for business owners who want to leverage the power of internet radio to meet their best prospects, establish credibility for their organization and heighten the placement of their brand in search engines rankings. With a professional venue and a proven formula, Business RadioX® helps hosts podcast their shows and create a regular stream of dynamic content to share with their prospects and feed the search engines every week. Programs are recorded and streamed live to the internet from our studios in the greater Atlanta area. For more information or to hear a live show, visit: http://www.businessradiox.com.