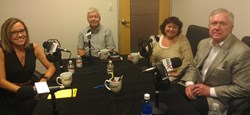 Your Pie is a fast-casual concept...that lets pizza lovers customize everything...
Atlanta, GA (PRWEB) August 22, 2013
On August 21, 2013, co-hosts Lee Kantor and Stone Payton of Results Matter Radio on Business RadioX® welcomed to the studio A.D. Frazier with Georgia Oak Partners, Bob Johnson with Club E Atlanta, Miranda Bryen with GivingPoint and Janet Young with AWSCPA to talk about their businesses and careers.
A.D. Frazier is President of Georgia Oak Partners, a highly differentiated investment platform focused on growth private equity investments in the Southeast US. Georgia Oak has recently announced they will make a significant investment in Your Pie. According to Frazier, "Your Pie is a fast-casual concept out of Athens that lets pizza lovers customize everything that goes on their personal pies, from the dough to the cheese." Georgia Oak will invest substantial growth equity into the emerging, customized pizza franchise brand. Georgia Oak's capital infusion will be used to support Your Pie's infrastructure growth and provide capital to promote further franchise expansion.
Next in the discussion was Bob Johnson, Managing Partner with Club E Atlanta. The Club E Office is designed for members to co-work, brainstorm, mix and mingle and work towards a common goal of expanding their businesses, organizations, products or services and to build viable relationships with other members. The Club E in College Park, Georgia is the second Club E location in the country. "We provide a professional, exclusive environment and access to several options for working, training, meeting and networking," said Johnson, adding, "Unlike executive business and country clubs, we are more affordable and welcoming to small businesses and we consistently connect, advertise and promote our members."
Also in the studio was Miranda Bryen, the Executive Director with GivingPoint, an Atlanta-based youth development organization focused on equipping and motivating students to create positive change in their community. Bryen was on the show to announce that GivingPoint has partnered with The Marcus Foundation to launch the GivingPoint Institute. Explained Bryen, "The $75,000 lead gift from The Marcus Foundation will be instrumental in helping to fund the GivingPoint Institute in its inaugural year, with a goal to support 15 to 20 students as they create and implement their own individual community projects."
Rounding out the discussion was Janet Young, the National VP of Membership for the American Women's Society of CPA's (AWSCPA) and the most recent past president of the Georgia Chapter of the AWSCPA. The AWSCPA Georgia chapter is a network of women devoted to tax and accounting. According to Young, "We are in the business of developing future women CPA leaders in Atlanta. We offer excellent and affordable Continuing Professional Education, selecting only the best speakers that address today's issues in a relaxed environment."
To learn more about these guests and programs, listen to the complete interview on Results Matter Radio.
About Burr & Forman's Results Matter Radio: http://resultsmatterradio.businessradiox.com/
Brought to you by Burr & Forman LLP, Results Matter Radio brings you pertinent business information and real life solutions to help drive desired results – whatever your business may be. We interview Business Leaders and Trusted Advisors about the most important issues in Commercial Real Estate, International Commerce, Healthcare, Family Business, Corporate Litigation, Finance, Philanthropy, Estate Planning, and more.
About Business RadioX®:
BusinessRadioX® interviews dozens of innovative entrepreneurs and successful leaders each week. Its mission is to help local businesses Get The Word Out about the important work they're doing for their market, their community, and their profession. With a pro-business slant and a long-form interview format, guests don't have to worry about being ambushed or talking in "sound bites." Guests have enough time to tell their whole story and to share their insights and experience without interruptions. BusinessRadioX® hosts are business professionals interviewing their peers, drilling down on the critical issues, and delivering practical information to an engaged business audience. Business topics that are frequently covered include: Law, Finance, Healthcare, Technology, Trade Shows, B2B Marketing, Venture Capital, Training and Development and other issues impacting the business community. For more information, visit: http://www.businessradiox.com.