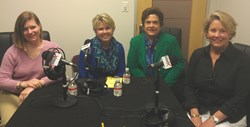 WPO accelerates business growth, enhances competitiveness, and promotes economic security.
Atlanta, GA (PRWEB) August 30, 2013
On August 27th, 2013, co-hosts Lee Kantor and Stone Payton of Results Matter Radio on Business RadioX® were joined in the studio by Moira Vetter with Modo Modo Agency, Joy Lynn Fields with Joy Lynn, Inc., Catherine Cates with Newport Board Group and Page Harty with SignatureFD to discuss the Women Presidents' Organization.
The Women Presidents' Organization (WPO) is a non-profit membership organization for women presidents of multimillion-dollar companies. Members of the WPO take part in professionally facilitated peer advisory groups in order to bring the 'genius out of the group' and accelerate the growth of their businesses. Through global, confidential and collaborative peer-learning groups, the WPO accelerates business growth, enhances competitiveness, and promotes economic security. It is the ultimate destination for successful women entrepreneurs.
First to discuss her role with WPO was Moira Vetter, founder and CEO of Modo Modo Agency, an award-winning, business-to-business marketing firm that has won over 100 awards in its first 5 years. Modo Modo Agency, with offices in Atlanta and Los Angeles, was recognized as the second fastest growing women-owned Atlanta firm in 2010. Vetter has just published her first book, "AdVenture, An Outsider's Inside View of Getting an Entrepreneur to Market."
Next up was Joy Lynn Fields, founder and CEO of Joy Lynn, Inc. a full-service qualitative marketing research company based in Atlanta. Fields founded the company in 1995 after spending 6 years in consulting with the late Frank Lane, recognized branding expert and author of "Killer Brands." According to Fields, "Although my experience spans a broad range of categories, much of my focus has been in consumer packaged goods." Fields conducts both traditional and web-based qualitative, as well as some ethnographic work throughout the US and abroad. Her experience includes facilitating groups and interviews among not only consumers, but physicians, employees and executives as well.
Catherine Cates, Advisor with Newport Board Group, is a seasoned executive whose 30 year business career includes 13 years in C-level roles in entrepreneurial companies. Cates said, "I am passionate about helping entrepreneurs grow their businesses past the predictable barriers called 'No Man's Land'."
Cates uses her ten years of banking and finance experience to help CEOs decode their financial statements and focus on just a few key metrics. Growth often requires cash, and Cates helps companies better manage their cash and put together a compelling story for lenders and investors to bring in more cash. She also helps CEOs focus on the most important issues that will drive growth and profitability.
Rounding out the discussion was Page Harty, partner and senior client relationship manager at SignatureFD, LLC. She is a Certified Financial Planner professional and has been in the financial services industry for over 20 years. Harty has spent the majority of her career providing comprehensive financial advice to high-net-worth individuals and families.
Harty is the leader of SignatureFD's women's initiative, SignatureWOMEN, and is passionate about helping other women become financially empowered to use their wealth to lead a great life. "I am committed to helping women clients create a plan that guides them through life's transitions, such as the loss of a spouse, divorce, selling a business, retirement and job changes."
To learn more about the Women Presidents' Organization and these featured guests, listen to the complete interview on Results Matter Radio.
About Burr & Forman's Results Matter Radio:
http://resultsmatterradio.businessradiox.com/
Results Matter Radio brings you pertinent business information and real life solutions to help drive desired results – whatever your business may be. We interview Business Leaders and Trusted Advisors about the most important issues in Commercial Real Estate, International Commerce, Healthcare, Family Business, Corporate Litigation, Finance, Philanthropy, Estate Planning, and more.
About Business RadioX®:
BusinessRadioX® interviews dozens of innovative entrepreneurs and successful leaders each week. Its mission is to help local businesses Get The Word Out about the important work they're doing for their market, their community, and their profession. With a pro-business slant and a long-form interview format, guests don't have to worry about being ambushed or talking in "sound bites." Guests have enough time to tell their whole story and to share their insights and experience without interruptions. BusinessRadioX® hosts are business professionals interviewing their peers, drilling down on the critical issues, and delivering practical information to an engaged business audience. Business topics that are frequently covered include: Law, Finance, Healthcare, Technology, Trade Shows, B2B Marketing, Venture Capital, Training and Development and other issues impacting the business community. For more information, visit: http://www.businessradiox.com.