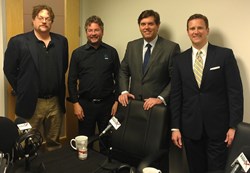 Atlanta, GA (PRWEB) October 07, 2013
On October 1, 2013, co-hosts Lee Kantor and Stone Payton of Results Matter Radio on Business RadioX® welcomed to the studio Blake Ashbee with Go Build Georgia, John Fountain with The Rawls Group, Gary McGraw with Cigital, and Marcus Ranum with Tenable Security to talk about their businesses and careers.
Blake Ashbee is the Interim Executive Director of Go Build Georgia, part of the Governor's Office of Workforce Development. Go Build Georgia was launched in support of Governor Deal's Georgia Competitiveness Initiative, focused on making the state more competitive both nationally and internationally. According to Ashbee, "Go Build Georgia aims to eliminate the state's labor gap and build a new generation of highly-skilled workers with a simple plan of educating both young people and parents about wage, lifestyle, and employment benefits of a career in the skilled trades through five in-demand sectors: telecommunications, manufacturing, logistics, industrial construction and energy."
Next in the discussion was John Fountain, Market Center Leader for The Rawls Group and Keller Williams Real Estate. As an alternative to both dependent and independent real estate models, The Rawls Group and Keller Williams provide and "interdependent" model and environment and promote a team environment where both parties succeed by working together. Explained Fountain, "We do this by encouraging agents and brokers to share their best practices with each other, and by rewarding associates who help the company grow."
Also in the studio was Gary McGraw, Chief Technology Officer of Cigital, the world's largest consulting firm specializing in software security and the global leader in helping organizations design, build, and maintain secure software. McGraw is a world authority on computer security and has been called the father of software security. McGraw is the author of Software Security (AWL 2006) and ten other best selling software security books. Additionally, he writes a technical security column for SearchSecurity and produces the monthly Silver Bullet Security Podcast for IEEE Security & Privacy magazine.
Rounding out the discussion was Marcus Ranum, Chief Security Officer of Tenable Security, and a world-renowned expert on security system design and implementation. The Tenable SecurityCenter™ is the trusted cybersecurity platform in use throughout the U.S. Department of Defense (DoD) and by many of the Fortune 500's. According to Ranum, "We want our customers and every company to have access to the latest and best technology that will ensure they stay connected, online, and in business."
To learn more about these guests and programs, listen to the complete interview on Results Matter Radio.
About Burr & Forman's Results Matter Radio: http://resultsmatterradio.businessradiox.com/
Brought to you by Burr & Forman LLP, Results Matter Radio brings you pertinent business information and real life solutions to help drive desired results – whatever your business may be. We interview Business Leaders and Trusted Advisors about the most important issues in Commercial Real Estate, International Commerce, Healthcare, Family Business, Corporate Litigation, Finance, Philanthropy, Estate Planning, and more.
About Business RadioX®:
BusinessRadioX® interviews dozens of innovative entrepreneurs and successful leaders each week. Its mission is to help local businesses Get The Word Out about the important work they're doing for their market, their community, and their profession. With a pro-business slant and a long-form interview format, guests don't have to worry about being ambushed or talking in "sound bites." Guests have enough time to tell their whole story and to share their insights and experience without interruptions. BusinessRadioX® hosts are business professionals interviewing their peers, drilling down on the critical issues, and delivering practical information to an engaged business audience. Business topics that are frequently covered include: Law, Finance, Healthcare, Technology, Trade Shows, B2B Marketing, Venture Capital, Training and Development and other issues impacting the business community. For more information, visit: http://www.businessradiox.com.