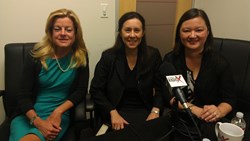 Profiles in Diversity Journal celebrates the achievements and personalities of leading women executives.
Atlanta, GA (PRWEB) October 11, 2013
On October 8, 2013, co-hosts Lee Kantor and Stone Payton of Results Matter Radio on Business RadioX® welcomed to the studio Ashby Kent Fox with Burr & Forman, Heather Generes with Recall Corporation and Deborah Marshall with InGirls for a special edition featuring Profiles in Diversity.
In every September/October issue, Profiles in Diversity Journal celebrates the achievements and personalities of leading women executives in the Women Worth Watching Issue. These executives are nominated by their colleagues, peers, and mentors for their initiative and achievements. The primary criteria for inclusion are the individual's attainment of a senior executive management position, or be a member of the board of directors, or report to the president or CEO of the organization (business, educational or government institution, military, etc.), and have distinguished herself in her career or chosen field.
Ashby Kent Fox, partner with Burr & Forman, was selected by Profiles in Diversity Journal for inclusion in the 12th Annual Women Worth Watching Issue. At Burr, Fox practices in the firm's Litigation group where her clients range from individuals and small businesses to large national financial institutions. She has more than 10 years of experience litigating in Georgia's state and federal courts where she handles a variety of business disputes for both plaintiffs and defendants.
Also in the studio was Heather Generes, Global Vice President of Marketing for Recall Corporation. Generes was also profiled in the 12th Annual Women Worth Watching Issue. Generes is responsible for Recall's marketing, product management and digital services business located across more than 20 countries in North and South America, Europe, Asia and Australia/New Zealand.
Rounding out this distinguished panel was Deborah Marshall with InGirls, a college readiness program that focuses on 8th grade middle school girls to give them a vision of achieving their dreams through college. The program delivers year long programming with monthly classroom sessions, a full day Leadership Symposium and a college immersion day. Each interaction gives young women knowledge, skills or tools that empower them to finish high school and to build a plan to attend college.
To learn more about these guests and programs, listen to the complete interview on Results Matter Radio.
About Burr & Forman's Results Matter Radio: http://resultsmatterradio.businessradiox.com/
Brought to you by Burr & Forman LLP, Results Matter Radio brings you pertinent business information and real life solutions to help drive desired results – whatever your business may be. We interview Business Leaders and Trusted Advisors about the most important issues in Commercial Real Estate, International Commerce, Healthcare, Family Business, Corporate Litigation, Finance, Philanthropy, Estate Planning, and more.
About Business RadioX®:
BusinessRadioX® interviews dozens of innovative entrepreneurs and successful leaders each week. Its mission is to help local businesses Get The Word Out about the important work they're doing for their market, their community, and their profession. With a pro-business slant and a long-form interview format, guests don't have to worry about being ambushed or talking in "sound bites." Guests have enough time to tell their whole story and to share their insights and experience without interruptions. BusinessRadioX® hosts are business professionals interviewing their peers, drilling down on the critical issues, and delivering practical information to an engaged business audience. Business topics that are frequently covered include: Law, Finance, Healthcare, Technology, Trade Shows, B2B Marketing, Venture Capital, Training and Development and other issues impacting the business community. For more information, visit: http://www.businessradiox.com.