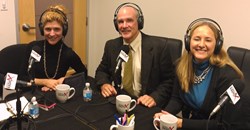 Atlanta, GA (PRWEB) November 20, 2013
On November 19, 2013, co-hosts Lee Kantor and Stone Payton of Results Matter Radio on Business RadioX® welcomed to the studio Sharon Lynne Baldwin with Healthcare Businesswomens Association, Chris Schroder with Schroder Public Relations and Gabriela Gonzalez-Lamberson with the Latin American Chamber of Commerce to talk about their businesses and careers.
Sharon Lynne Baldwin is the Chapter President-Elect with the Healthcare Businesswomen's Association, the leading not-for-profit global organization committed to helping women in healthcare, across all areas of functional expertise, achieve their leadership goals at every stage of their career. Its mission is to further the advancement and impact of women in healthcare wordwide. The first HBA chapter was launched in Atlanta. Today, the HBA serves its expanding membership in a variety of roles and diverse areas while remaining true to its roots to further the advancement and impact of women in healthcare worldwide.
Next in the studio was Chris Schroder, Founder and President of Schroder Public Relations. Schroder PR is a full service communications firm offering a wide range of capabilities designed to help clients achieve their corporate public relations and marketing objectives. According to Schroder, "We believe the best way to clearly communicate and break through the daily information clutter is through the preservation and telling of compelling stories that are delivered through traditional media and in websites, blogs, videos, eNewsletters and social media."
Today Schroder has built a strong team of experts that include former reporters, veteran public relations executive legends, media relations and social media specialists. Their clients range from multi-million dollar companies to small startup firms. Schroder PR has clients in a wide range of industries including commercial real estate, law, finance, health care and more.
Rounding out the discussion was Gabriela Gonzalez-Lamberson, Board Member on the Latin American Chamber of Commerce. Founded in 1998 as the Mexican American Business Chamber, the Latin American Chamber of Commerce of Georgia (LACC Georgia) is today one of the largest Latino organizations and the leading voice of Latino Businesses in Georgia. As a non-profit organization, the purpose of the LACC Georgia is to foster the economic growth and development of the Latin American business community in Georgia and the Southeast.
Gonzalez-Lamberson said, "Today the Latino population in Georgia has $17 billion in buying power and represents 8.8% of the population of the state; over 853,000 Georgians are Latinos."
To learn more about these guests and programs, listen to the complete interview on Results Matter Radio.
About Burr & Forman's Results Matter Radio: http://resultsmatterradio.businessradiox.com/
Brought to you by Burr & Forman LLP, Results Matter Radio brings you pertinent business information and real life solutions to help drive desired results – whatever your business may be. We interview Business Leaders and Trusted Advisors about the most important issues in Commercial Real Estate, International Commerce, Healthcare, Family Business, Corporate Litigation, Finance, Philanthropy, Estate Planning, and more.
About Business RadioX®:
BusinessRadioX® interviews dozens of innovative entrepreneurs and successful leaders each week. Its mission is to help local businesses Get The Word Out about the important work they're doing for their market, their community, and their profession. With a pro-business slant and a long-form interview format, guests don't have to worry about being ambushed or talking in "sound bites." Guests have enough time to tell their whole story and to share their insights and experience without interruptions. BusinessRadioX® hosts are business professionals interviewing their peers, drilling down on the critical issues, and delivering practical information to an engaged business audience. Business topics that are frequently covered include: Law, Finance, Healthcare, Technology, Trade Shows, B2B Marketing, Venture Capital, Training and Development and other issues impacting the business community. For more information, visit: http://www.businessradiox.com.