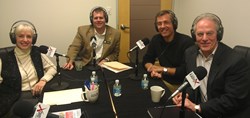 SEI...awards scholarships to local area nonprofit leaders to attend Executive Education Programs...at Harvard University...
Atlanta, GA (PRWEB) November 27, 2013
On November 26, 2013, co-hosts Lee Kantor and Stone Payton of Results Matter Radio on Business RadioX® welcomed to the studio Ed Shartar with Diversified Search, Kathy Colbenson with CHRIS Kids, J.D. McCrary with International Rescue Committee and Trace Haythorne with the Association for Clinical Pastoral Education to discuss the Harvard Business School Club of Atlanta.
Founded in the 1930's, The Harvard Business School (HBS) Club of Atlanta is one of the largest HBS alumni clubs worldwide. The Club serves more than 1,200 alumni in the Atlanta metropolitan area and enjoys a participation level that is among the highest in the country. Its purpose is to connect and develop Atlanta alumni while making a difference in the community.
The Club hosts over thirty events each year, including breakfast and evening events featuring well-known business and community leaders who discuss the challenges facing their companies and industries, as well as social events, career development opportunities and Special Interest Groups.
Ed Shartar, Managing Director of Diversified Search, serves as a board member and Vice President of the Social Enterprise Initiative (SEI) with The Club. According to Shartar, "Harvard Business School's SEI, in conjunction with the Atlanta Club, awards scholarships to local area nonprofit leaders to attend Executive Education Programs in Social Enterprise at Harvard University during the summer."
Kathy Colbenson is a 2001 SEI Scholarship recipient, and CEO of CHRIS Kids, a nonprofit that offers a values-driven family of services. They provide trauma-informed, strength-based services through a counseling center, a training institute, eight group homes, a supportive housing apartment complex for single and parenting youth of ages 17 – 24, adoption services, and a host of in-home services designed to help children, youth, adults and families unlock their potential for self-sufficiency and good citizenship.
Also joining the conversation was J.D. McCrary, Executive Director of the International Rescue Committee in Atlanta, and a 2013 SEI Scholarship recipient. The IRC of Atlanta provides opportunities for refugees to thrive in America. Each year, thousands of refugees are invited by the U.S. government to seek safety and freedom. Forced to flee conflict or persecution, many have survived for years against incredible odds. In Atlanta, the IRC helps refugees rebuild their lives.
Rounding out the conversation was 2012 SEI Scholarship recipient Trace Haythorne, Executive Director of the Association for Clinical Pastoral Education. The ACPE is a multicultural, multifaith organization devoted to providing education and improving the quality of ministry and pastoral care offered by spiritual caregivers of all faiths through the clinical educational methods of Clinical Pastoral Education.
To learn more about these guests and programs, listen to the complete interview on Results Matter Radio.
About Burr & Forman's Results Matter Radio: http://resultsmatterradio.businessradiox.com/
Brought to you by Burr & Forman LLP, Results Matter Radio brings you pertinent business information and real life solutions to help drive desired results – whatever your business may be. We interview Business Leaders and Trusted Advisors about the most important issues in Commercial Real Estate, International Commerce, Healthcare, Family Business, Corporate Litigation, Finance, Philanthropy, Estate Planning, and more.
About Business RadioX®:
BusinessRadioX® interviews dozens of innovative entrepreneurs and successful leaders each week. Its mission is to help local businesses Get The Word Out about the important work they're doing for their market, their community, and their profession. With a pro-business slant and a long-form interview format, guests don't have to worry about being ambushed or talking in "sound bites." Guests have enough time to tell their whole story and to share their insights and experience without interruptions. BusinessRadioX® hosts are business professionals interviewing their peers, drilling down on the critical issues, and delivering practical information to an engaged business audience. Business topics that are frequently covered include: Law, Finance, Healthcare, Technology, Trade Shows, B2B Marketing, Venture Capital, Training and Development and other issues impacting the business community. For more information, visit: http://www.businessradiox.com.