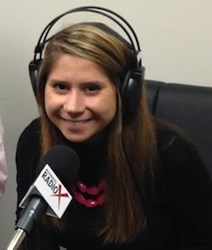 We desire to work with the Bitcoin community to help support and grow this tremendous technological and financial innovation.
Atlanta, GA (PRWEB) December 19, 2013
On December 17, 2013, co-hosts Lee Kantor and Stone Payton of Results Matter Radio on Business RadioX® welcomed to the studio Elizabeth Ploshay with Bitcoin Magazine to discuss digital currency and her role with the Bitcoin Foundation.
Elizabeth Ploshay serves as Manager of Communications for Bitcoin Magazine, a magazine that reaches hundreds of thousands of readers every month by covering current events in business, technology, politics, law and society with a wide variety of viewpoints and opinions from authors and guests in an attempt to provide enlightening commentary that is accessible to new Bitcoin users as well as news and insights the veteran users will find valuable.
According to Ploshay, "We desire to work with the Bitcoin community to help support and grow this tremendous technological and financial innovation that empowers each one of us to manage our own economic relations with greater control."
Introduced in 2009, Bitcoin is a digital currency used in an open-source, peer to peer payment network.
Ploshay brings to Bitcoin Magazine a background in public policy, grassroots activism, and a keen desire to promote decentralization and individual liberties. She also serves on the Board of Directors for the Bitcoin Foundation and is chair of their Education Committee. Explained Ploshay, "The Foundation seeks to standardize, promote and protect Bitcoin."
To learn more about Elizabeth Ploshay and Bitcoin Magazine, listen to the complete interview on Results Matter Radio.
About Burr & Forman's Results Matter Radio: http://resultsmatterradio.businessradiox.com/
Brought to you by Burr & Forman LLP, Results Matter Radio brings you pertinent business information and real life solutions to help drive desired results – whatever your business may be. We interview Business Leaders and Trusted Advisors about the most important issues in Commercial Real Estate, International Commerce, Healthcare, Family Business, Corporate Litigation, Finance, Philanthropy, Estate Planning, and more.
About Business RadioX®:
BusinessRadioX® interviews dozens of innovative entrepreneurs and successful leaders each week. Its mission is to help local businesses Get The Word Out about the important work they're doing for their market, their community, and their profession. With a pro-business slant and a long-form interview format, guests don't have to worry about being ambushed or talking in "sound bites." Guests have enough time to tell their whole story and to share their insights and experience without interruptions. BusinessRadioX® hosts are business professionals interviewing their peers, drilling down on the critical issues, and delivering practical information to an engaged business audience. Business topics that are frequently covered include: Law, Finance, Healthcare, Technology, Trade Shows, B2B Marketing, Venture Capital, Training and Development and other issues impacting the business community. For more information, visit: http://www.businessradiox.com.