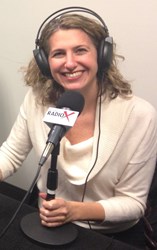 When prepared correctly, a cost segregation study can also be an excellent asset management tool.
Atlanta, GA (PRWEB) January 23, 2014
On January 21, 2014, co-hosts Lee Kantor and Stone Payton of Results Matter Radio on Business RadioX® welcomed to the studio Debbie Rodkin with Bedford Cost Segregation.
As a director of business development at Bedford Cost Segregation, Debbie Rodkin builds relationships with CPA firms, commercial real estate developers and investors, asset and portfolio managers, and owners to help them increase cash flow using cost segregation and asset management studies. She is primarily responsible for the southeast region, with a concentration on Georgia and south Florida.
Bedford is an independent professional services firm specializing in cost segregation and innovative tax, finance, and energy solutions for the commercial real estate industry. According to Rodkin, "We are not an affiliate or a subsidiary of an accounting firm and are committed to working closely with CPAs and trusted advisors to provide high quality tax-centric solutions."
Cost segregation is a tax planning strategy utilized by commercial real estate owners and tenants to accelerate depreciation deductions, defer tax, and improve cash flow. A cost segregation study (CSS) is based on a detailed engineering analysis that is used to support the acceleration of depreciation deductions by identifying costs that can be allocated to shorter recovery periods. "When prepared correctly," said Rodkin, "a cost segregation study can also be an excellent asset management tool."
Bedford also provides educational programs on tax related topics for property owners, tenants, CPAs, tax advisors, and other professionals interested in the commercial real estate industry. Explained Rodkin, "Our presentations range from beginner to advanced topics and are designed to provide an appropriate mix of theory and practical application." CPE events can be conducted as a webinar or at a client's place of business.
To hear more about Bedford Cost Segregation, listen to the complete interview on Results Matter Radio.
About Burr & Forman's Results Matter Radio:
http://resultsmatterradio.businessradiox.com/
Brought to you by Burr & Forman LLP, Results Matter Radio brings you pertinent business information and real life solutions to help drive desired results – whatever your business may be. We interview Business Leaders and Trusted Advisors about the most important issues in Commercial Real Estate, International Commerce, Healthcare, Family Business, Corporate Litigation, Finance, Philanthropy, Estate Planning, and more.
About Business RadioX®:
BusinessRadioX® interviews dozens of innovative entrepreneurs and successful leaders each week. Its mission is to help local businesses Get The Word Out about the important work they're doing for their market, their community, and their profession. With a pro-business slant and a long-form interview format, guests don't have to worry about being ambushed or talking in "sound bites." Guests have enough time to tell their whole story and to share their insights and experience without interruptions. BusinessRadioX® hosts are business professionals interviewing their peers, drilling down on the critical issues, and delivering practical information to an engaged business audience. Business topics that are frequently covered include: Law, Finance, Healthcare, Technology, Trade Shows, B2B Marketing, Venture Capital, Training and Development and other issues impacting the business community. For more information, visit: http://www.businessradiox.com.