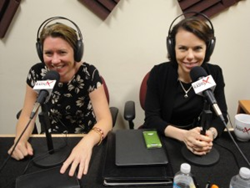 ...Women's Forum is open to all female ACG members who would like to actively network...
Atlanta, GA (PRWEB) July 05, 2013
On July 2, 2013, co-hosts Lee Kantor and Stone Payton of Results Matter Radio on Business RadioX® welcomed to the studio Catherine Dixon and Sara O'Brien, Board Members of ACG (Association for Corporate Growth) Atlanta.
ACG (Association for Corporate Growth) was founded in 1954. It is a global organization with 58 chapters and over 14,000 members. ACG brings dealmakers together to help them achieve their business and professional goals. ACG brings together every segment of the growth community – private equity professionals, investment bankers and intermediaries, attorneys, auditors and accountants, lenders, corporate development officers, company leaders, and is focused on the middle market. ACG Atlanta has nearly 600 members and offers monthly programs and events designed to connect with others focused on best practices, organic and acquisitive growth.
As ACG Atlanta's VP of Membership, Catherine Dixon is regarded as an expert resource in mergers and acquisitions and corporate finance. Her relationship-based approach and deep functional knowledge give her a unique perspective with which to serve clients. Explained Dixon, "In order to help CFOs succeed, I combine my expertise as an investment banker and CPA with my talent for clearly understanding needs and then connecting those needs with workable solutions." Dixon's practical problem-solving skills help CIOs as they work through the critical steps of merger integrations and planning for other initiatives.
Sara O'Brien, ACG Atlanta's VP of Programs, is currently the President and CFO of O'Brien & Company. She has a proven track record of success in managing company P&L, tracking company performance and adjusting corporate strategies. According to O'Brien, "I have collaborated in numerous transformation programs, participating in their design, development, management, and execution." She is known for consistently maintaining a high degree of shareholder confidence and retention by driving revenue and delivering results with directed focus on ROI.
Dixon and O'Brien highlighted the upcoming ACG Atlanta's Women's Forum, happening August 20 and open to all female ACG members who would like to actively network with other women in the industry. The Women's Forum is hosted by the Atlanta Dream.
To hear more about ACG Atlanta and the upcoming Women's Forum, listen to the complete interview on Results Matter Radio.
About Burr & Forman's Results Matter Radio:
http://resultsmatterradio.businessradiox.com/
Brought to you by Burr & Forman LLP, Results Matter Radio brings you pertinent business information and real life solutions to help drive desired results – whatever your business may be. We interview Business Leaders and Trusted Advisors about the most important issues in Commercial Real Estate, International Commerce, Healthcare, Family Business, Corporate Litigation, Finance, Philanthropy, Estate Planning, and more.
About Business RadioX®:
Business RadioX® provides a turnkey solution for business owners who want to leverage the power of internet radio to meet their best prospects, establish credibility for their organization and heighten the placement of their brand in search engines rankings. With a professional venue and a proven formula, Business RadioX® helps hosts podcast their shows and create a regular stream of dynamic content to share with their prospects and feed the search engines every week. Programs are recorded and streamed live to the internet from our studios in the greater Atlanta area. For more information or to hear a live show, visit: http://www.businessradiox.com.