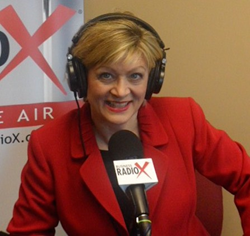 The Money Mastery Game recently became the catalyst for an upcoming new TV reality series, Project Launchpad.
Atlanta, GA (PRWEB) June 10, 2014
On May 13, 2014, Tres Crow, host of the Ritz Group Radio Show on Atlanta Dealmakers, welcomed to the studio Cathy Hankinson, founder of IMPACT Success Systems and inventor of IMPACT, The Money Mastery board game.
Impact Success Systems is a resource for people looking to improve their business, life and money. IMPACT's holistic approach brings the internal and the external together so that one can improve their career or business, earn more money and achieve greater personal success.
Hankinson is the inventor of IMPACT, The Money Mastery Game, a board game where players can play their way to wealth. "That game came as a result of my years working in financial services," explained Hankinson. "I saw how people really struggled with a fundamental understanding of how money works and how to make money work for them." The Money Mastery Game recently became the catalyst for an upcoming new TV reality series, Project Launchpad.
Hankinson has a passion for helping people and she has become a powerful, results-driven leader over the years. Hankinson is also a Ritz Group Ambassador.
To learn more about Hankinson and her endeavors, listen to the entire interview on Atlanta Dealmakers.
About Atlanta Dealmakers:
http://atlantadealmakers.businessradiox.com/
The Ritz Group Radio Show is dedicated to discussing the most important topics related to angel investing and the entrepreneurial journey. By combining investors, service providers, business leaders, and entrepreneurs, the Ritz Group Radio Show provides a unique view of the Atlanta entrepreneurial ecosystem. Join host Tres Crow at 2:00pm EST on the second Tuesday of each month for this spotlighted show on Atlanta Dealmakers.
About Business RadioX®:
BusinessRadioX® interviews dozens of innovative entrepreneurs and successful leaders each week. Its mission is to help local businesses Get The Word Out about the important work they're doing for their market, their community, and their profession. With a pro-business slant and a long-form interview format, guests don't have to worry about being ambushed or talking in "sound bites." Guests have enough time to tell their whole story and to share their insights and experience without interruptions. BusinessRadioX® hosts are business professionals interviewing their peers, drilling down on the critical issues, and delivering practical information to an engaged business audience. Business topics that are frequently covered include: Law, Finance, Healthcare, Technology, Trade Shows, B2B Marketing, Venture Capital, Training and Development and other issues impacting the business community. For more information, visit: http://www.businessradiox.com.