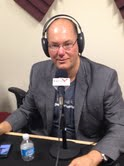 All companies perform better when they incorporate client feedback into their decision-making.
Atlanta, GA (PRWEB) July 12, 2013
On July 11, 2013, co-hosts Lee Kantor and Stone Payton of BusinessRadioX®'s Atlanta Business Radio sat down with Ken Robbins from Response Mine Interactive (RMI).
Ken Robbins is the founder and President of RMI, an award-winning digital agency that helps clients acquire more customers using direct response digital marketing. RMI was founded in 2001 with the goal of taking hard-core direct response techniques and media optimization to Internet marketing.
For the past decade, Robbins and his team have generated billions of dollars in revenue for leading brands in the B2B, healthcare, travel and home services channels. RMI is also a leader in acquiring boomers and seniors for clients. Some of the companies his agency has worked with include The Home Depot, Rooms To Go, Carter's/Osh Kosh B'gosh, Liberty Medical, The Scooter Store, Education First Educational Tours, Maid Brigade, Terminix and formerly Staples, Travelzoo and Hallmark.
Robbins explained RMI's recent achievement of their Net Promoter Score® (NPS). According to Robbins, "The single best predictor question as to whether someone is likely to buy from your company is - Are you willing to refer this company to someone else?" In posing this "evangelism" question to its customers, RMI ranked an NPS of 63, three times the national average for B2B companies.
"All companies perform better when they incorporate client feedback into their decision-making," said Robbins.
In addition to his leadership at RMI, Robbins is also a sought-after marketing resource for a variety of leading industry publications. He is a contributor to the book, "The Digital Media Innovation Playbook," that hit shelves in August 2011 and was featured on the cover of USA Today's Money Section in the first article written using only Twitter. He was also quoted in the 2009 book, "Socialnomics: How Social Media Transforms the Way We Live and Do Business" and is a guest marketing and business lecturer at Emory University and The Wharton School of the University of Pennsylvania.
To learn more about Robbins and RMI, tune in to this episode at Atlanta Business Radio.
About Lee Kantor:
Lee Kantor has been involved in Internet radio, podcasting and blogging since he started the Dr. Fitness and the Fat Guy show in 2005. Since then, Lee has interviewed well over 1000 entrepreneurs, business owners, authors and celebrities on a variety of shows and at live events. In addition to his hosting duties, Lee is a Managing Partner at BusinessRadioX® and is committed to helping entrepreneurs and business owners in Atlanta learn how to use radio to dramatically grow their businesses.
About Stone Payton:
For over 24 years, Stone Payton has been helping organizations and the people who lead them drive their business strategies more effectively. He is a Managing Partner at BusinessRadioX® and the author of SPEED®: Never Fry Bacon In The Nude: And Other Lessons From The Quick & The Dead, and has dedicated his entire career to helping others produce better results in less time.
About Atlanta Business Radio:
http://www.atlantabusinessradio.businessradiox.com
Each week, from the BusinessRadioX® studio in Sandy Springs, Lee Kantor and Stone Payton interview Atlanta, Georgia's top businessmen and businesswomen to learn what makes them the best at what they do.
About BusinessRadioX®:
BusinessRadioX® provides a turnkey solution for business owners who want to leverage the power of internet radio to meet their best prospects, establish credibility for their organization and heighten the placement of their brand in search engines rankings. With a professional venue and a proven formula, BusinessRadioX® helps hosts podcast their shows and create a regular stream of dynamic content to share with their prospects and feed the search engines every week. Programs are recorded and streamed live to the internet from our studios in the greater Atlanta area. For more information or to hear a live show, visit: http://www.businessradiox.com.