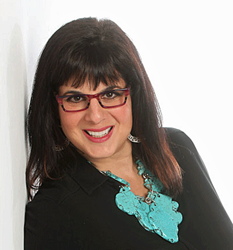 Desiree has a great reputation in her field, and it makes perfect sense to move her from guest to host.
Atlanta, GA (PRWEB) August 26, 2013
On Tuesday, September 3, 2013, BusinessRadioX® welcomes to the studio the latest addition to its radio family, Desiree Scales with Bella Web Design, who will host a new weekly edition of High Velocity Radio.
Scales will host the High Velocity Radio show on Tuesdays at 2 p.m. EST, and will interview thought leaders who are blazing a trail in their industry by thinking out of the box and breaking new ground. These leaders will share their stories and inspire others to take a new look at what is possible and challenge what was thought to be impossible.
Originally a guest on several of BusinessRadioX®'s prominent shows, Scales' expertise has earned her recognition as a valuable resource to listeners as well as the BusinessRadioX® team. "Desiree has a great reputation in her field, and it makes perfect sense to move her from guest to host. She's a great fit for RadioX," said Lee Kantor, founder of BusinessRadioX®.
Scales founded Bella Web Design in 1998 following a successful career as a flight attendant for United Air Lines and an analyst for Delta Airlines. Since the company's launch, Scales created a track record of success and profitability for Bella Web, which has helped over 1,000 companies build and maintain a strong online presence with services such as compelling web design, web hosting, ecommerce, automated marketing, SEO, email marketing, and social media coaching. Scales is also an Infusionsoft Certified Consultant (ICC).
She has been a featured online marketing and web design expert for USAToday.com, CBS News in Atlanta, 11Alive, and NBC Nightly News.
Please join us for her inaugural episode as host of High Velocity Radio on Tuesday, September 3rd, at 2 p.m. EST.
About High Velocity Radio:
http://highvelocityradio.businessradiox.com
High Velocity Radio celebrates top performers producing better results in less time. The show brings in business leaders and experts to talk about their methods and to help listeners develop the competence, confidence, and commitment to succeed with speed.
About Business RadioX®:
BusinessRadioX® interviews dozens of innovative entrepreneurs and successful leaders each week. Its mission is to help local businesses Get The Word Out about the important work they're doing for their market, their community, and their profession. With a pro-business slant and a long-form interview format, guests don't have to worry about being ambushed or talking in "sound bites." Guests have enough time to tell their whole story and to share their insights and experience without interruptions. BusinessRadioX® hosts are business professionals interviewing their peers, drilling down on the critical issues, and delivering practical information to an engaged business audience. Business topics that are frequently covered include: Law, Finance, Healthcare, Technology, Trade Shows, B2B Marketing, Venture Capital, Training and Development and other issues impacting the business community. For more information, visit: http://www.businessradiox.com.