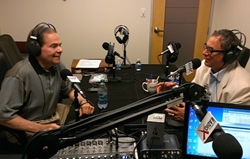 It is very hard to be angry at anything on the water, and when I see the positive results, it feeds our group.
Atlanta, GA (PRWEB) June 17, 2014
Midtown Business Radio, a weekly show on Business RadioX guest-hosted by CW Hall, aired an interview on June 3, 2014 with Dick Caillouet, president-elect, to discuss the Georgia chapter of Safari Club International and to talk about a new humanitarian program with the Wounded Warriors Project.
As the largest sportsmen organization in the world, Safari Club International (SCI) is the leader in protecting the freedom to hunt and to promote wildlife conservation with 190 chapters located around the globe. SCI provides value to members by shaping policies and legislation that protect the freedom to hunt locally, nationally and internationally.
Caillouet is a Vietnam War Veteran himself and has become the Georgia Chapter Chairman of the Wounded Veterans Events, which is part of the Wounded Warriors Project. Caillouet organizes and guides outdoor trips with war veterans that suffer from post traumatic stress disorder and/or physical injury recovery. These are all-expense paid fishing and hunting trips designed specifically for the veterans taking part.
"The most serene time is on the water," explained Caillouet. "It is hard to be angry at anything on the water, and when I see the positive results, it feeds our group." He is able to combine his knowledge and safe hunting practices from the SCI to help take the Wounded Veterans Events outdoors.
To learn more about Safari Club International and their special work with the Wounded Warriors Project, tune in to this episode of Midtown Business Radio.
About Midtown Business Radio:
http://midtown.businessradiox.com
Each week, from the Business RadioX® studio in Midtown, we interview Atlanta's top business professionals to learn what makes them the best at what they do. Airs LIVE on Tuesdays at 11:30am EST.
About Business RadioX®:
BusinessRadioX® interviews dozens of innovative entrepreneurs and successful leaders each week. Its mission is to help local businesses Get The Word Out about the important work they're doing for their market, their community, and their profession. With a pro-business slant and a long-form interview format, guests don't have to worry about being ambushed or talking in "sound bites." Guests have enough time to tell their whole story and to share their insights and experience without interruptions. BusinessRadioX® hosts are business professionals interviewing their peers, drilling down on the critical issues, and delivering practical information to an engaged business audience. Business topics that are frequently covered include: Law, Finance, Healthcare, Technology, Trade Shows, B2B Marketing, Venture Capital, Training and Development and other issues impacting the business community. For more information, visit: http://www.businessradiox.com.