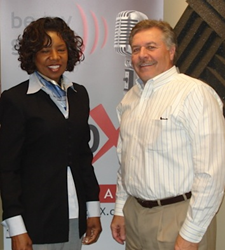 We change lives and improve organizations by offering proven talent management solutions.
Atlanta, GA (PRWEB) April 17, 2014
Indigo Triplett, CEO of Careers in Transition, came to the Gwinnett Business RadioX® studio on March 5, 2014 to discuss her success in starting Careers in Transition and how other entrepreneurs can more successfully manage their careers and lead their businesses. Triplett was interviewed on Silver Lining in the Cloud by Dominick Rainey of Computer Design Integration.
Careers in Transition is a Talent Management organization and Human Resources consulting firm founded in 2005, providing services such as Performance Consulting, Instructional Design, Executive Search, and Talent Optimization. Careers in Transition is based in Atlanta with most clients located in the Washington, DC area, and was recognized in 2012 and 2013 as one of the Top 500 Fastest Growing Companies by Inc. Magazine.
"My company helps people," said Triplett. "We change lives and improve organizations by offering proven talent management solutions."
Indigo Triplett is a renowned Author and Speaker who launched Careers in Transition in 1995. She discussed how people could most optimally conduct their businesses to maximize profit and success, from being prudent with money, to offering top-quality products.
To learn more about Careers in Transition, listen to this interview in its entirety on Silver Lining in the Cloud.
About Silver Lining in the Cloud:
http://www.silverlining.businessradiox.com
Silver Lining in the Cloud is presented by Computer Design and Integration. Silver Lining in the Cloud is an open forum show that highlights and promotes many of Atlanta's top businesses and business leaders. Guests hone in on what is the silver lining that their business offers to the community, how they are making a difference and celebrating their success.The show airs on Wednesdays at 10:00 a.m. EST and is co-hosted by Nikole Smith-Toptas and Dominick Rainey.
About Computer Design and Integration:
Computer Design & Integration LLC (CDI) provides data center infrastructure design, integration and support for businesses' evolving needs while simplifying complex information technologies. The company offers advanced technology strategies with a particular focus on highly available data center solutions. Their dedicated managed services staff offers businesses scalability to ensure the highest degree of completion success and on-time performance. Founded in 1995, with locations in NY, NJ, Atlanta and Charlotte, CDI has been recognized as one of the nation's top 500 IT solution providers. For more information, visit http://www.cdillc.com/ or Twitter @cdillc.
About Business RadioX®:
Business RadioX® interviews dozens of innovative entrepreneurs and successful leaders each week. Its mission is to help local businesses Get The Word Out about the important work they're doing for their market, their community, and their profession. With a pro-business slant and a long-form interview format, guests don't have to worry about being ambushed or talking in "sound bites." Guests have enough time to tell their whole story and to share their insights and experience without interruptions. BusinessRadioX® hosts are business professionals interviewing their peers, drilling down on the critical issues, and delivering practical information to an engaged business audience. Business topics that are frequently covered include: Law, Finance, Healthcare, Technology, Trade Shows, B2B Marketing, Venture Capital, Training and Development and other issues impacting the business community. For more information, visit: http://www.businessradiox.com.