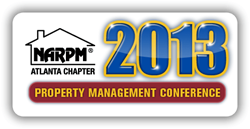 This year's conference offers both new and seasoned professional educational opportunities...
Atlanta, GA (PRWEB) August 27, 2013
On August 14, 2013, Kate Schermerhorn, host of Squawk Talk on Business RadioX®, was joined in the studio by Joel Elliott with EW Capital Management, Dan Wilhelm with 3 Options Realty, Robert Gilstrap with Title One Management and Ramon Gonzalez with myHomeSpot.com to talk about the upcoming NARPM Georgia Conference.
The National Association of Residential Property Managers (NARPM) is an association of real estate professionals who know first-hand the unique problems and challenges of managing single-family and small residential properties. The goal of the Atlanta Chapter of NARPM is to promote and enhance the services provided by NARPM National to the NARPM Chapters within the state of Georgia and all at-large NARPM members.
Dan Wilhelm is the President of the Atlanta Chapter of NARPM. Wilhelm is with 3 Options Realty, a full service real estate company that specializes in residential sales, leasing and property management. They are a portfolio style company, which means that each agent establishes and maintains their own database of clients for whom they help buy, help market their home for sale, and provide leasing and management services.
Next on the panel was Joel Elliott, Vice President of NARPM Atlanta. Elliott is with EW Capital Management, providing full service property management, real estate, construction and insurance. They specialize in single family homes, condos, duplexes, as well as apartment buildings of any size. They are staffed by Atlanta property managers, construction supervisors, leasing agents and skilled tradesmen.
Robert Gilstrap, President-Elect for NARPM Atlanta, is with Title One Management, a full service residential property management firm serving the metro Atlanta area. Using state of the art technology coupled with over 20 years of "in the trenches" management experience, Title One brings a unique set of skills and talents that not only afford expert day to day management for a property, but also assist clients in growing their real estate investment portfolio.
Rounding out the panel was Chapter Leader Ramon Gonzalez with myHomeSpot.com, a real estate services company, providing consulting services and real estate solutions including leasing and management, property sales and investor services. They take a consultative approach, by first determining a client's needs, and then tailoring their services to help them reach their specific goals.
This year's NARPM Georgia Conference is scheduled for September 12-13 at the Hilton Marietta Hotel and Conference Center. According to Wilhelm, "This year's conference offers both new and seasoned professionals educational opportunities, guest speakers, panel discussions and great networking." The conference will also feature a trade show with property management and realty vendors.
To learn more about NARPM and these featured guests, listen to the complete interview on Squawk Talk.
About Squawk Talk:
http://squawktalk.businessradiox.com/
Hosted by Kate Schermerhorn, Squawk Talk is an open forum for business professionals from all industries. The show airs Wednesdays at 1PM EST and is sponsored by Eagle Carpet Care & Restoration. Guests include leaders in the real estate industry, insurance services, home services, medical services, childhood education, and retail industry who share stories about growing and improving their communities through work and service.
About Business RadioX®:
BusinessRadioX® interviews dozens of innovative entrepreneurs and successful leaders each week. Its mission is to help local businesses Get The Word Out about the important work they're doing for their market, their community, and their profession. With a pro-business slant and a long-form interview format, guests don't have to worry about being ambushed or talking in "sound bites." Guests have enough time to tell their whole story and to share their insights and experience without interruptions. BusinessRadioX® hosts are business professionals interviewing their peers, drilling down on the critical issues, and delivering practical information to an engaged business audience. Business topics that are frequently covered include: Law, Finance, Healthcare, Technology, Trade Shows, B2B Marketing, Venture Capital, Training and Development and other issues impacting the business community. For more information, visit: http://www.businessradiox.com.