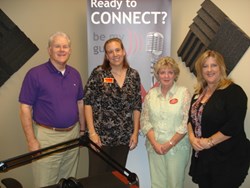 Today's panel of industry experts are gathered to discuss issues that face property managers, property owners, and tenants alike.
Atlanta, GA (PRWEB) September 25, 2013
On September 11, 2013, Kate Schermerhorn, host of Squawk Talk on Business RadioX®, was joined in the studio by Robert Locke with Crown Realty Management, Kathleen Teare with Atlanta Partners Property Management and Lisa Fuqua with Onward Real Estate for a Property Managers Forum.
According to Schermerhorn, "Today's panel of industry experts are gathered to discuss issues that face property managers, property owners, and tenants alike."
The first guest was Robert Locke, Broker and Owner of Crown Realty Management. Crown is a 30-year-old property management company specializing in buying, renovating, leasing and managing homes in the Atlanta area. Crown currently manages 1,000 houses with a 30-person staff. They are active in training other investors and managers in the art of the property management business and have acquired 14 other management companies.
Also in the studio was Kathleen Teare with Atlanta Partners Property Management, a full-service property management company serving the metro Atlanta area. Their services include, but are not limited to, providing complete rental services for tenants. Atlanta Partners also provides leasing services, management services, and leasing with management services for homeowners throughout the area. They are owned and managed by professional realtors who have more than 50 years of experience in the real estate and property management industries. Atlanta Partners' belief system focuses on integrity, honesty, commitment, communication and trust. Their mission is to provide world class service to their clients and customers.
Rounding out the discussion was Lisa Fuqua with Onward Real Estate, a full-service company specializing in residential and commercial leasing, property management, and sales. Onward has staff in place for administrative and accounting duties who support their fully licensed agents with both real estate licenses and certified property management specialists designations. The agent is the point of contact throughout the relationship, beginning with listing the property, screening and placing the tenant, managing the property and then selling. Onward is a one-stop shop, whether the clients are investors, or simply temporary landlords waiting out market conditions.
To learn more about these featured guests, listen to the complete interview on Squawk Talk.
About Squawk Talk:
http://squawktalk.businessradiox.com/
Hosted by Kate Schermerhorn, Squawk Talk is an open forum for business professionals from all industries. The show airs Wednesdays at 1PM EST and is sponsored by Eagle Carpet Care & Restoration. Guests include leaders in the real estate industry, insurance services, home services, medical services, childhood education, and retail industry who share stories about growing and improving their communities through work and service.
About Business RadioX®:
BusinessRadioX® interviews dozens of innovative entrepreneurs and successful leaders each week. Its mission is to help local businesses Get The Word Out about the important work they're doing for their market, their community, and their profession. With a pro-business slant and a long-form interview format, guests don't have to worry about being ambushed or talking in "sound bites." Guests have enough time to tell their whole story and to share their insights and experience without interruptions. BusinessRadioX® hosts are business professionals interviewing their peers, drilling down on the critical issues, and delivering practical information to an engaged business audience. Business topics that are frequently covered include: Law, Finance, Healthcare, Technology, Trade Shows, B2B Marketing, Venture Capital, Training and Development and other issues impacting the business community. For more information, visit: http://www.businessradiox.com.