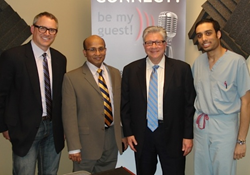 We now have a much better understanding of how important it is to manage diabetes.
Atlanta, GA (PRWEB) May 06, 2014
Three specialists in the treatment of diabetic ulcer patients were featured on the April 1, 2014 episode of Top Docs Radio, hosted by Charles "CW" Hall with Hyperbaric Physicians of Georgia. Dr. Andrew Pugliese, Dr. Shamir Bhikha, and Dr. Uthan Vivek each provided insight on the roles they play in saving limbs and lives of diabetic ulcer patients.
According to recent data from the Centers for Disease Control (CDC), 35% of the population has diabetes or pre-diabetic conditions. Approximately one in six patients with diabetes will develop lower extremity ulcers on the foot or leg. If amputation is the only solution, risk of mortality increases.
"We now have a much better understanding of how important it is to manage diabetes, to keep from facing amputation," said Dr. Pugliese. "A multi-disciplinary approach results in a much better outcome for patients. In the future, we will see (the practice of) medicine move more towards this multi-disciplinary approach rather than one physician treating a patient."
Dr. Pugliese received his doctorate in Medicine from St. George University School of Medicine. He is Triple Board Certified in Internal Medicine and Infectious Disease.
Dr. Vivek received his Doctorate in Medicine from Madras Medical College in India. He is a specialist in endovascular procedures for peripheral arterial disease, management of carotid artery disease, abdominal aortic aneurysm, deep vein thrombosis, diabetic foot ulcers and dialysis access.
Dr. Bhikha received his Doctorate with Honors in Podiatric Medicine from Barry University School of Podiatric Medicine. He is skilled in sports medicine and trauma to the foot and ankle, podopediatrics and reconstructive foot and ankle surgery, and has comprehensive training in diabetic limb salvage, plastic surgery and wound care.
To learn more about treatment for diabetic ulcer patients, listen to this interview in its entirety on Top Docs Radio.
About Top Docs Radio:
http://www.topdocs.businessradiox.com
Top Docs Radio is a forum for conversations with leading doctors and thought leaders. Discussions are about cutting edge trends and topics in health, wellness and lifestyle issues. Top Docs Radio is presented by Hyperbaric Physicians of Georgia and is hosted by Charles "CW" Hall. The program airs live every Thursday at Noon.
About Hyperbaric Physicians of Georgia:
Hyperbaric Physicians of Georgia is the largest privately owned hyperbaric physicians group in the Southeast. Their staff has combined over 100 years of experience in the medical, physical and mechanical effects of hyperbaric oxygen and wound care management. Their physicians have extensive training in wound care and hyperbaric medicine, many with dual certifications. In addition to lecturing to medical schools and residency programs, their physicians stay actively involved on a national level to increase the acceptance of hyperbaric medicine.
About Business RadioX®:
Business RadioX® interviews dozens of innovative entrepreneurs and successful leaders each week. Its mission is to help local businesses Get The Word Out about the important work they're doing for their market, their community, and their profession. With a pro-business slant and a long-form interview format, guests don't have to worry about being ambushed or talking in "sound bites." Guests have enough time to tell their whole story and to share their insights and experience without interruptions. BusinessRadioX® hosts are business professionals interviewing their peers, drilling down on the critical issues, and delivering practical information to an engaged business audience. Business topics that are frequently covered include: Law, Finance, Healthcare, Technology, Trade Shows, B2B Marketing, Venture Capital, Training and Development and other issues impacting the business community. For more information, visit: http://www.businessradiox.com.