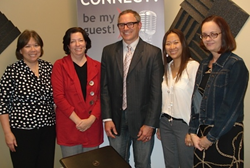 All four doctors work closely with each other and have created a trusted team.
Atlanta, GA (PRWEB) June 06, 2014
On the May 1, 2014 episode of Top Docs Radio, the Business RadioX show featuring leading doctors, host CW Hall lead a discussion on breast cancer and welcomed into the studio four physicians. This group makes up part of the multi-specialty team a breast cancer patient will likely work with on their journey through treatment.
Dr. Jennifer Amerson is a breast surgeon with Breast Care Specialists, a practice that integrates radiology and surgical expertise in the management of breast disease. Typically, when a patient is diagnosed with breast cancer, the first step is to visit a surgeon like Dr. Amerson to have the tumor removed.
Dr. Kristina Bowen is a medical oncologist with Georgia Cancer Specialists, a practice with an integrative approach to cancer care that includes prevention, early detection, advanced treatment, clinical research, support services, and compassionate caregivers in communities across Georgia. Dr. Bowen meets with patients and develops a treatment plan depending on the patient and severity of the tumor.
Dr. Nancy Wiggers is a radiation oncologist with Northside Radiation Oncology Care Institute, one of the largest and most respected providers of cancer care services in the Southeast. Dr. Wiggers offers several different radiology treatments that allow a patient to avoid having surgery. She also has patients that need radiology treatments after having a mastectomy.
Dr. Jenny Chang is a plastic surgeon with Artisan Plastic Surgery, a premier Atlanta cosmetic surgery facility, providing leading-edge treatments for the face, body and breasts. Dr. Chang helps patients recover with encouragement and restoration at the end of their long, hard journey. At Artisan Plastic Surgery, patients have several options to choose from when considering breast reconstructive surgery.
All four doctors work closely with each other and have created a trusted team that allows patients to have all their needs met when battling breast cancer.
To learn more about this unique approach to breast cancer care, listen to this interview in its entirety on Top Docs Radio.
About Top Docs Radio:
http://topdocs.businessradiox.com
Top Docs Radio is a forum for conversations with leading doctors and thought leaders. Discussions are about cutting edge trends and topics in health, wellness and lifestyle issues. Top Docs Radio is presented by Hyperbaric Physicians of Georgia and is hosted by Charles "CW" Hall. The program airs live every Thursday at Noon.
About Hyperbaric Physicians of Georgia:
Hyperbaric Physicians of Georgia is the largest privately owned hyperbaric physicians group in the Southeast. Their staff has combined over 100 years of experience in the medical, physical and mechanical effects of hyperbaric oxygen and wound care management. Their physicians have extensive training in wound care and hyperbaric medicine, many with dual certifications. In addition to lecturing to medical schools and residency programs, their physicians stay actively involved on a national level to increase the acceptance of hyperbaric medicine.
About Business RadioX®:
Business RadioX® interviews dozens of innovative entrepreneurs and successful leaders each week. Its mission is to help local businesses Get The Word Out about the important work they're doing for their market, their community, and their profession. With a pro-business slant and a long-form interview format, guests don't have to worry about being ambushed or talking in "sound bites." Guests have enough time to tell their whole story and to share their insights and experience without interruptions. BusinessRadioX® hosts are business professionals interviewing their peers, drilling down on the critical issues, and delivering practical information to an engaged business audience. Business topics that are frequently covered include: Law, Finance, Healthcare, Technology, Trade Shows, B2B Marketing, Venture Capital, Training and Development and other issues impacting the business community. For more information, visit: http://www.businessradiox.com.