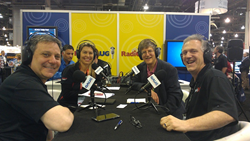 Atlanta, GA (PRWEB) April 24, 2014
Co-hosts Lee Kantor and Stone Payton of Trade Show Radio spotlighted speakers, participants, and vendors at the OAUG Collaborate 14 Conference, April 7-11, 2014 in Las Vegas, Nevada. Featured on the show were technology visionaries and Oracle strategists.
The Collaborate 14 Conference was presented by the Independent Oracle Users Group (IOUG), the Oracle Applications Users Group (OAUG) and the Quest International Users Group (QUEST). This conference was titled Technology and Applications Forum for the Oracle Community. It offered customer-to-customer interaction of technology visionaries.
Among the 34 people interviewed over the course of conference were Alyssa Johnson with Rolta, Ramchand Raman with Oracle, Mark Clark with O2Works, and Marc Ramos with EiS Technologies.
Business RadioX spotlighted the entire event, a once-a-year opportunity. To hear all the interviews, visit Trade Show Radio.
About Trade Show Radio:
BusinessRadioX®, founded in Atlanta in 2007, hosts more than 72 shows from seven studios that help businesses get the word out. The company has also developed a proven method for filling trade show booths with decision makers, with Trade Show Radio. Business RadioX works in any size booth but is exclusive to one booth per show. To ensure that your company will be the one who will improve the ROI of your next event, visit http://www.radioinmybooth.com
About BusinessRadioX®:
BusinessRadioX® interviews dozens of innovative entrepreneurs and successful leaders each week. Its mission is to help local businesses Get The Word Out about the important work they're doing for their market, their community, and their profession. With a pro-business slant and a long-form interview format, guests don't have to worry about being ambushed or talking in "sound bites." Guests have enough time to tell their whole story and to share their insights and experience without interruptions. BusinessRadioX® hosts are business professionals interviewing their peers, drilling down on the critical issues, and delivering practical information to an engaged business audience. Business topics that are frequently covered include: Law, Finance, Healthcare, Technology, Trade Shows, B2B Marketing, Venture Capital, Training and Development and other issues impacting the business community. For more information, visit: http://www.businessradiox.com.