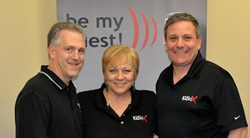 Ann brings incredible drive and passion to our business...
Atlanta, GA (PRWEB) December 09, 2013
BusinessRadioX® is proud to welcome Ann Revell-Pechar as the newest Studio Operator in Wilmington, N.C.
For more than 25 years, Ann Revell-Pechar has played an integral role in the introduction of more than 150 innovative technology and life sciences products and services, and has worked with VCs and non-profits to help companies grow. She is founder of A. Revell Communications – formerly Revell-Pechar, Inc., – which she co-founded in 1993 and has operated in Seattle, Baltimore, Atlanta and Wilmington, NC.
Revell-Pechar was instrumental in the organization of CED Tech 2013, held in Raleigh, NC in September. She had BusinessRadioX® bring Radio In My Booth to Raleigh, and the response was overwhelmingly positive. So much so, Revell-Pechar soon began talks to open her own studio to serve the North Carolina business community.
Revell-Pechar will be hosting two house shows - Wilmington Business Radio and Bridges to Business. Wilmington Business Radio, airing Thursdays at 3:30pm EST, gives voice to the most interesting thought leaders in the Wilmington, North Carolina business community. Each episode appeals to the curious with fascinating interviews featuring out-of-the-ordinary guests.
There are more than 12,700 bridges in North Carolina, connecting people and work. Bridges to Business, airing Fridays at 3:30pm EST, features interviews with fascinating people who are helping North Carolina grow and prosper – no matter which bridge they crossed to get here.
"Ann brings incredible drive and passion to our business, and this studio is an excellent first step in our national expansion," said Lee Kantor, founder of BusinessRadioX®.
Please join us in welcoming Wilmington to our studio family, and tune in to Wilmington Business Radio and Bridges to Business.
About Business RadioX®:
BusinessRadioX® interviews dozens of innovative entrepreneurs and successful leaders each week. Its mission is to help local businesses Get The Word Out about the important work they're doing for their market, their community, and their profession. With a pro-business slant and a long-form interview format, guests don't have to worry about being ambushed or talking in "sound bites." Guests have enough time to tell their whole story and to share their insights and experience without interruptions. BusinessRadioX® hosts are business professionals interviewing their peers, drilling down on the critical issues, and delivering practical information to an engaged business audience. Business topics that are frequently covered include: Law, Finance, Healthcare, Technology, Trade Shows, B2B Marketing, Venture Capital, Training and Development and other issues impacting the business community. For more information, visit: http://www.businessradiox.com.