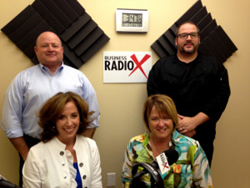 The Hope Gala is a wonderful event that we enjoy hosting at the Convention Center.
Wilmington, NC (PRWEB) May 13, 2014
Wilmington's Business RadioX will now have a special monthly episode hosted by the Wilmington Convention Center, spotlighting special events to be held in the Center. On the inaugural May 2, 2014 show, Ann Revell-Pechar co-hosted alongside Susan Eaton, General Manager of the Convention Center, highlighting the Juvenile Diabetes Research Foundation (JDRF) Hope Gala award recipients Scott and Twyla Satterfield. The Satterfields were joined in the studio by Wilmington Convention Center chef Scott Frazzetta.
"The Hope Gala is a wonderful event that we enjoy hosting at the Convention Center," said Eaton. "The work done by this group, supporting families of those with Type I Diabetes, is admirable, and we are proud to spotlight the Satterfields as they are honored for their tireless work."
The Wilmington Convention Center is located in downtown Wilmington on the Cape Fear River. Its development began in the mid-2000s, and the organization has been attracting conventions and events since its opening. It is a boon to the region, as it brings tens of thousands of people to New Hanover County for events. As General Manager, Susan Eaton oversees day-to-day facility, food and beverage, and outdoor event space operations.
This interview also featured the Convention Center's head chef Scott Frazzetta. He has won awards for "Best in Show," "Best Taste," and "Best Appetizer" during the Epicurean Evening awards events. Frazzetta is closely involved in assuring guest delight during the JDRF Hope Gala, which will take place on Saturday, May 17, 2014 at the Wilmington Convention Center.
To learn more about the Wilmington Convention Center, tune in to this episode of Wilmington Business Radio. The Convention Center's shows will run the third Thursday of every month on Wilmington Business RadioX.
About Wilmington Business Radio:
http://wilmington.businessradiox.com/
Wilmington Business Radio airs on Business RadioX® each week, and gives voice to the most interesting thought leaders in the Wilmington, North Carolina business community. Hosted by Ann Revell-Pechar, owner of A. Revell Communications and Wilmington Business RadioX®, each episode appeals to the curious with fascinating interviews featuring out-of-the-ordinary guests. Wilmington Business Radio airs on Thursdays at 3:30pm EST at http://www.wilmington.businessradiox.com, and all episodes are available as podcasts for free download.
About Business RadioX®:
BusinessRadioX® interviews dozens of innovative entrepreneurs and successful leaders each week. Its mission is to help local businesses Get The Word Out about the important work they're doing for their market, their community, and their profession. With a pro-business slant and a long-form interview format, guests don't have to worry about being ambushed or talking in "sound bites." Guests have enough time to tell their whole story and to share their insights and experience without interruptions. BusinessRadioX® hosts are business professionals interviewing their peers, drilling down on the critical issues, and delivering practical information to an engaged business audience. Business topics that are frequently covered include: Law, Finance, Healthcare, Technology, Trade Shows, B2B Marketing, Venture Capital, Training and Development and other issues impacting the business community. For more information, visit: http://www.businessradiox.com.