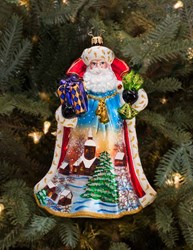 The Christopher Radko Mid-Year Ornaments continue year after year to represent some of the most exciting designs of the year and these new ornament introductions definitely continue that tradition.
Duluth, Georgia (PRWEB) August 23, 2013
Leading Christopher Radko ornament retail specialist, Christopher Radko Gallery, is proud to introduce the new 2013 Christopher Radko Ornament introductions from the exciting mid-year collection. The new 2013 Christopher Radko mid-year Christmas ornaments include a festive and varied assortment of new styles of heirloom glass Christmas ornaments.
The forty-five Christopher Radko mid-year ornament additions join the seven hundred ornament styles already in the 2013 holiday collection. Each Christopher Radko ornament is still lovingly designed and handmade in Eastern Europe by skilled artisans with time-honored techniques that enhance the detail and intricacy of each Christopher Radko ornament. The collection of 2013 Christopher Radko ornaments includes the introduction of several exciting applications designed to enhance the sparkle and brilliance of the Christopher Radko collection.
The premiere addition to the new Christopher Radko ornament styles in the 2013 mid-year collection is the Limited Edition Christopher Radko Midnight Sky ornament, which is sure to be a top seller for the upcoming holiday season. The Limited Edition Radko Midnight Sky ornament features a majestic Santa Claus dressed in a fur trimmed robe and hat while holding beautifully wrapped holiday gifts. A stunning hand-painted winter wonderland scene adorns the Santa's Old World holiday attire. Like all Limited Edition Christopher Radko ornaments, each Midnight Sky ornament is numbered on the official Radko tag with the production details.
Other highlights to the new 2013 mid-year Christopher Radko ornament offerings include a joyous selection of classic Radko favorites such as traditional Santa's and snowmen, religious ornaments, nutcrackers and a number of fun new styles in the popular animal ornament category.
Whether you are a seasoned Radko collector or new to world of Christopher Radko ornaments, you are sure to appreciate the magic of Christopher Radko ornaments with their dazzling sparkle and joyous assortments ready to adore your holiday Christmas tree this year and for seasons to come.
Christopher Radko Gallery is please to offer Free Shipping with orders over $75. Each heirloom glass Christopher Radko ornament proudly wears the Radko charm and comes with the official Christopher Radko gift box.
Christopher Radko Gallery is a division of Peace, Love & Decorating and is located thirty minutes north of Atlanta at 3129 Main Street, Duluth, Georgia 30096. Please visit http://www.radko-christmas.com to shop the Christopher Radko Gallery online.