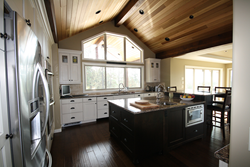 Because of the way the housing market is currently, people are instead choosing to renovate and stay where they are because they can't get on the property ladder where they want.
Kelowna, BC (PRWEB) October 27, 2016
A Kelowna construction company that specializes in renovations is booking months ahead, and a lot of it has a direct correlation to rising house prices. Rather than run the risk of selling, and being unable to purchase an affordable upgrade, many property owners are instead improving their current dwellings with the kinds of home renovations Kelowna residents seek out so they can maintain or even enhance their lifestyle.
"Because of the way the housing market is currently, people are instead choosing to renovate and stay where they are because they can't get on the property ladder where they want," says Sandi Kneller, administration manager of Rafter 4K Contracting. "They can't find what they're looking for in their dollar range because of the market explosion."
According to a recent article by KelownaNow, the "aggregate price of a home in the region rose 10.9 per cent year-over-year." Citing housing statistics provided by Royal LePage, the report also indicates that the average price of a two-storey home in Kelowna now costs nearly $650,000.
For some, that's simply too much. It either means they'll be unable to secure a mortgage, or it places them well out of their financial comfort zone. That's left many homeowners looking for ways to fix up their current homes to make them more suitable for their needs.
Rafter 4K, a Kelowna construction company specializing in everything from bathroom renovations to installing pools in Kelowna to home additions, has noticed a corresponding uptick in business. With an experienced staff of 14 team members, they're able to take on a broad range of projects.
Kneller has observed that although there are still many new housing starts in Kelowna, there seems to be just as many existing home renovations.
"It (construction demand) depends on the year and the economy. For the last year, we've been booked for at least three or four months in advance," says Kneller, who operates the company alongside her husband, Norm Kneller.
For those who are looking to sell and cash in on this red-hot real estate market, she says many are opting for presale home renovations Kelowna residents rely on to increase their property value.
For example, one of Rafter 4K's recent clients had an older fixer-upper that they wanted to list. In order to achieve maximum value, they ended up replacing a floor that was rotting in places, repairing some faulty electrical work, and removing a wall to improve the layout.
"It was a situation where the Realtor® came in and said there were some things that had to be done before he was comfortable listing it," says Kneller.
Under regular circumstances, she says the first areas where homeowners look to make improvements are the kitchen and bathroom.
"They tend to be the things people will notice right away," she explains. "And you don't always have to redo the whole thing. Sometimes just a reface or updating it will have a huge effect on the sales appeal."
Even though the city is heading into winter, Kneller's Kelowna construction company will still be busy.
"Given our climate, there's a lot that can be done in winter. It's actually a good time for renovations because everyone from suppliers to sub trades tend to be less busy. A lot of people want to wait until the weather is nicer, but there's really not a need," she says.
"We often try to plan our fairly large projects so they start in the fall and carry on for six months or even a year." "We understand how disruptive renovations can be, and do our best to work with each client's situation to make it as stress-free as possible, in some cases have even built a temporary living space for them prior to initiating the actual renovation."
About Rafter 4K Contracting
With 25 years of general contracting experience, Rafter 4K Contracting is the Kelowna construction company of choice for residential and commercial projects. From home renovations to installing pools in Kelowna to project management for commercial construction, our highly skilled team can handle it all. We ensure client satisfaction by delivering projects on time and on budget, while remaining focused on quality craftsmanship.
For more information, please contact:
Norm Kneller
President
Rafter 4K Contracting
250-765-0856
info[at]rafter4k[dot]com
http://www.rafter4K.com