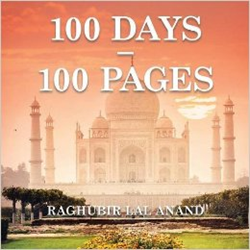 DELHI, India (PRWEB) February 12, 2016
In "100 Days - 100 Pages" (published by Partridge India), author Raghubir Lal Anand offers an analysis of the first 100 days of current Prime Minister of India Narendra Modi's time in office.
"I am in my last phase of life. I hope to leave a legacy of peace and mutual understanding," Anand explains. "This book is an attempt to reconcile Mr. Modi's constructive economic reforms and large scale criticism he has been receiving from all narrow minded corners of society."
An excerpt from "100 Days – 100 Pages":
The history of the Pakistan cannot be blamed for the entire problem. Sixty eight years of internal power struggle has been eating steadily at the base of this failed nation. It is true that Pakistan has a powerful army, but no seasoned politician. Still I emphasize that the conversion of Pakistan into a state of martial law was not preordained. The military's rise to dominance as early as 1950 can be understood only in the context of the regional challenges during the Cold War. There has been a great deal of emphasis on the blunder of partition, but enough stress has not be laid on the mistrust between the neighbours contributing to both behaving like pawns in the hands of the two major players of the Cold War. The respective ruling elites justified these associations as ideological or even pragmatist, but the result was that while democracy survived in India due to elections, Pakistan was struggling for it. Pakistan does not have money to feed its population because it spends a lion's share on its military arsenal with a single point objective of destabilizing India. This step has become anti-people.
"100 Days - 100 Pages"
By Raghubir Lal Anand
Softcover | 8.5 x 8.5 in | 112 pages | ISBN 9781482869521
E-Book | 112 pages | ISBN 9781482869514
Available at Amazon and Barnes & Noble
About the Author
Raghubir Lal Anand was born into a middle-class family in 1939 in a village named Eklas near Rawalpindi (now in Pakistan). After the partition of India in 1947, his parents migrated to India as refugees. Though his early education was in India, he graduated from Tribhuvan University. His pioneering concept about the use of solar energy is being applied throughout the country and abroad due to paucity of electric power. He is the author of "Is God Dead???: The Truth about Jammu & Kashmir."
Partridge India, a Penguin Random House company, is a leading provider of book publishing, marketing and bookselling services for authors in India, all priced appropriately for the Indian market. Committed to providing the highest level of customer service, Partridge India assigns each author personal publishing and marketing consultants who provide guidance throughout the process. Partridge India shares its headquarters with Penguin Books India in New Delhi. For more information or to publish a book, visit partridgepublishing.com/india or call 000.800.10062.62. For the latest, follow @PartridgeIndia on Twitter.