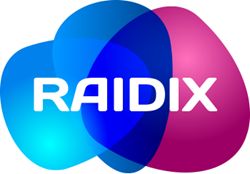 Stansstad, Switzerland (PRWEB) July 19, 2016
The R&D of RAIDIX, a leading data storage solution provider, announces the official release of RAIDIX 4.4. The new product line is now available to enterprise customers, as well as the company's business and technology partners across the globe.
RAIDIX delivers reliable storage solutions to a plethora of data-rich market verticals including Media & Entertainment, High Performance Computing (HPC), Video Surveillance and Enterprise.
Mindful of ever-growing data volumes and versatile industry patterns, RAIDIX aligns its functionality with the key business requirements:
High Performance
-- Unprecedented operation speeds due to optimized paralleling of RAID algorithm calculations
-- Sustainable storage. No performance decline even in degraded mode or at peak system load
-- Consistently high throughput. The data rate is only limited by hardware restrictions
Reliability
-- Continuity of operations. Due to in-house RAID algorithms, data remains intact even if multiple disks fail
-- Data integrity at all times. Detection and remediation of silent data corruption incidents
Value for money
-- Hardware cost optimization. Compatible with commodity hardware, RAIDIX helps reduce overall infrastructure costs.
-- Extensible infrastructure. An ability to install third party applications right on the storage node
Flexibility
-- Universal compatibility and full support of SAN (Fibre Channel, InfiniBand, iSCSI, 12G SAS) and NAS (NFS, SMB, AFP, FTP)
-- Intuitive interface/multi-level reporting. A patented user-friendly GUI to facilitate data management.
What's new in RAIDIX 4.4?
Random access optimization (RAO)
RAO is a brand-new feature that allows shiny performance gains and infrastructure savings for enterprise customers by using data deduplication. RAO may be applied to any particular volume. The functionality caters to random operations, such as database and transactional interactions.
Random access optimization enables fast resolution of business tasks and boosts data processing from enterprise applications (CRM, ERP, corporate email, etc.).
The technology builds on:
-- Data deduplication for space economy and easy virtualization
-- Thin provisioning of system resources to extend logical disk capacity.
Advanced redundancy
RAIDIX 4.4 revamps multi-path input/output (MPIO) by adding support for the built-in Microsoft DSM (device specific module) instead of previously used in-house DSM driver.
RAIDIX provides Standalone Storage Appliances as well as Scale-Out NAS / Shared Storage solutions. The Scale-Out edition scales exponentially while maintaining a single namespace. The system supports heterogeneous client OS via SAN and shares the same data via NAS. It provides full compatibility with third party software and operates without a hitch on a multitude of hardware configurations.
The RAIDIX product line is distributed through the global partner network. To request purchase guidelines, clarify business/technical objectives and locate the right partner in a specified area, contact RAIDX Sales Team at request(at)raidix(dot)com.
Potential partners are welcome to join the RAIDIX Partner Program. Contact RAIDIX managers at http://www.raidix.com/contact-us/ and start generarting revenues with RAIDIX's cutting edge storage technology.
About RAIDIX
RAIDIX (http://www.raidix.com) is a leading solution provider and developer of high performance storage systems.
The company's strategic value builds on patented erasure coding methods and innovative technology designed by the in-house research laboratory. Compatible with commodity-off-the-shelf server hardware, RAIDIX commits to resilient storage with high throughput, robust performance and low latency.
RAIDIX Global Partner Network encompasses system integrators, storage vendors and IT solution providers. The latter offer RAIDIX-powered storage products focused on professional applications. RAIDIX provides storage solutions in the business domains of Media and Entertainment, Video Surveillance, Enterprise, High-Performance Computing (HPC) and other data-rich industries.
Founded in 2009, RAIDIX brings years of previous data storage experience to its clients. Deep understanding of industry-specific processes, along with ample technical expertise, enables RAIDIX to deliver tailored solutions in a multitude of verticals.
RAIDIX partners with industry leaders such as Intel, Mellanox, QLogic, ATTO, and others.